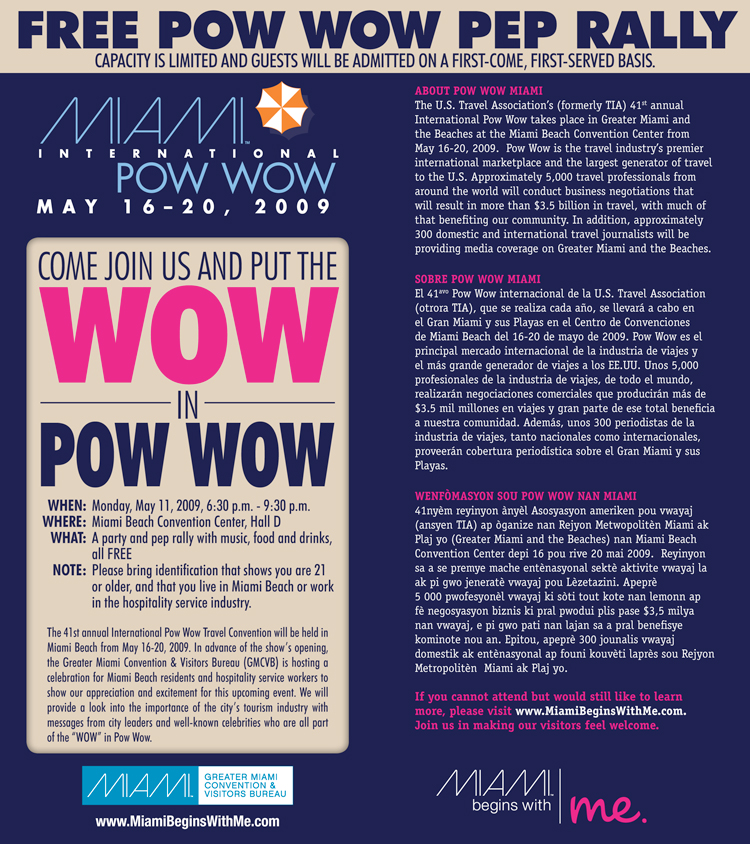 WHEN: Monday, May 11, 6:30p-9:30p
WHERE: Miami Beach Convention Center, Hall D
WHAT: FREE party and pep rally with music, food, and drinks
NOTE: Bring ID that shows you are 21+ and live in Miami Beach or work in the hospitality industry.
ABOUT POW WOW
The U.S. Travel Association's (formerly TIA) 41st annual International Pow Wow takes place in Greater Miami and the Beaches at the Miami Beach Convention Center on May 16-20, 2009. Pow Wow is the travel industry's premier international marketplace and the largest generator of travel to the U.S. Approximately 5,000 travel professionals from around the world will conduct business negotiations that will result in more than $3.5 billion in travel with much of that benefitting our community. In addition, approximately 300 domestic and international travel journalists will be providing media coverage on Greater Miami and the Beaches.
Please make sure to welcome our visitors during Pow Wow. Remember Miami Begins with Me and Miami Begins with Us!