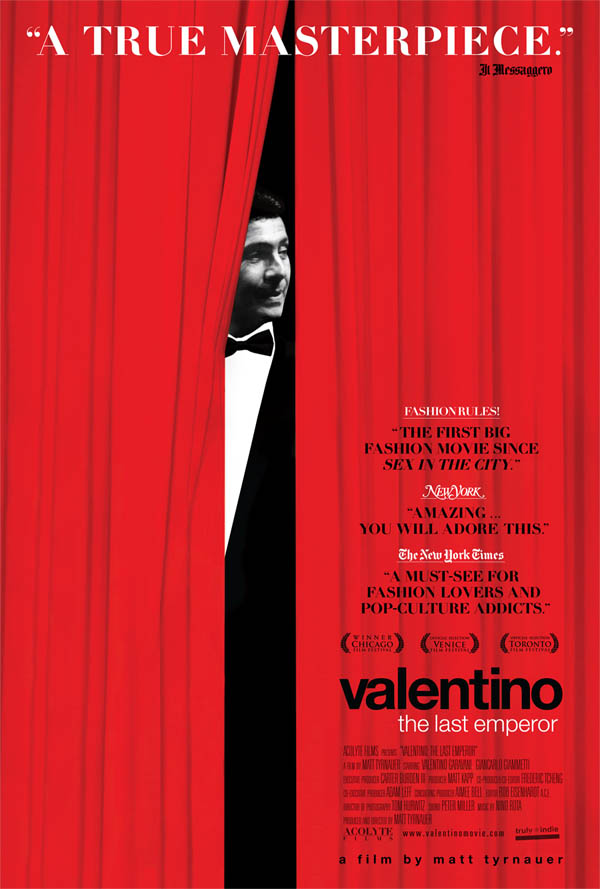 VALENTINO The Last Emperor
a film by Matt Tyrnauer
If you missed the Opening Night screening at the Miami International Film Festival, you can still catch "The Fashion Movie of the Year."
Opening Friday, May 8
in Miami at the Regal South Beach Cinema 18
Tickets at Fandango
SYNOPSIS
Shown in film festivals around the world to wide acclaim, VALENTINO THE LAST EMPEROR is a feature film that has captured the hearts and imaginations of audiences.
Directed by Matt Tyrnauer, the film takes the viewer inside the singular world of the legendary designer Valentino.
With unprecedented access, VALENTINO THE LAST EMPEROR follows the Italian maestro for the final two years of his celebrated career, capturing the end of an era in global fashion.
But at the heart of the film is a love story: the unique relationship between Valentino and his business partner of 50 years, Giancarlo Giammetti.
96 minutes – USA – Color – in English/Italian/French with English subtitles
What the critics are saying
"Flawless" TIME
"I am mesmerized. I love this movie." Jeffrey Lyons, NBC Reel Talk
"Pure escapist fun…" The New York Times
"Amazing… you will adore this." New York Magazine
"Fused with wit and self-deprecating humor. The film captures the deep-seated relationship of two men" André Leon Talley, Vogue