An Art Show & Launch Event by FriendsWithYou Thursday May 7 Meet the artists + series release!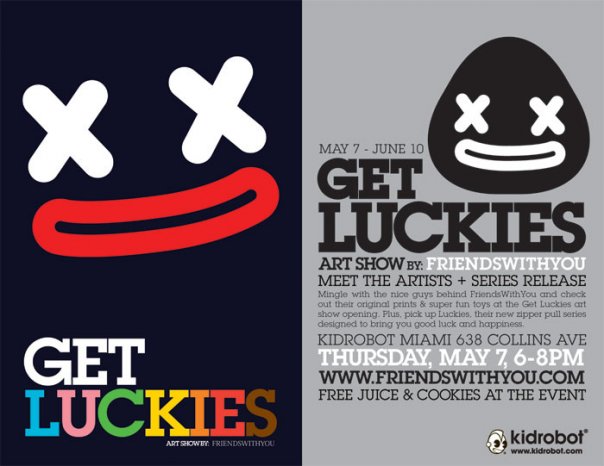 Hey Friends!
We're super excited to invite you to join us @ the Kidrobot South Beach store next Thursday May 7th from 6-8pm for the much anticipated release of our NEW FriendsWithYou Zipper Pull Line "The Luckies"!!! We can't wait for you guys all to see how amazing these are!
There's more…
This same night FriendsWithYou will be revealing 8 original limited edition prints made just for Kidrobot and shown in their new instore art gallery. Each of these limited edition prints are numbered and signed by Sam & Tury and will be the very first series of prints to have the official FWY embossed seal of authenticity. That's right collector friends…you definitely want to get your hands on these must have prints!
So come meet FriendsWithYou's Sam & Tury and celebrate with them and the rest of the FriendsWithYou family @ the Kidrobot South Beach Store located between 6th & 7th on Collins ave. Be the very FIRST to have the "Luckies" and these limited edition FWY signature prints!
Love, The FriendsWithYou!
Thursday, May 7, 2009 6:00pm – 8:00pm
Kidrobot Miami 638 Collins Ave Miami Beach, FL
friendswithyou.com