Tuesday, April 28th @ 10:00 a.m.
Miami Downtown Development Authority and the City of Miami Celebrate the Re-Opening of Paul S. Walker Park
Three New 'Pocket Parks' Make Downtown More Pedestrian-Friendly and Enhance Livability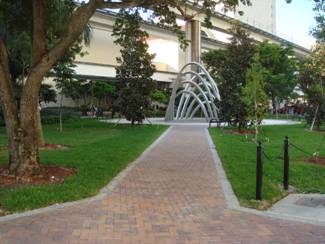 WHAT: Miami Downtown Development Authority and the City of Miami hold dedication ceremony in celebration of Downtown's newest green space, Paul S. Walker Urbanscape.
The re-opening of Paul S. Walker Urbanscape marks the culmination of three new "pocket parks" in Downtown's Central Business District, which are part of the DDA's larger beautification program to create a more pedestrian-friendly environment and improve the quality of life in Downtown.
The DDA invested more than $350,000 to restore these parks, introducing approximately 23,000 sq. ft. of green space into Downtown.
Immediately following the dedication, on-site samplings by neighboring restaurants will take place at Paul S. Walker Park. Entertainment and live music performances at each of the three new mini parks will liven up the lunch hour for all to enjoy.
WHO: Remarks will be made by Mayor Manny Diaz, Commissioner Joe Sanchez, Commissioner Marc Sarnoff, City Manager Pete Hernandez, and Miami DDA Executive Director Alyce Robertson, who will all speak to the impact that creating more green spaces will have to enhance the livability in Downtown.
WHEN: Tuesday, April 28th – Dedication Ceremony at Paul S. Walker Urbanscape @ 10 a.m.
Music and entertainment at all three parks until 1:30 p.m. (all within walking distance; map embedded below)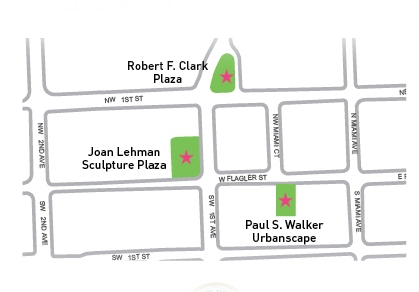 WHERE: Paul S. Walker Urbanscape (46 W. Flagler St.)
Thirty years ago, the original park space (named after former DDA board member and community leader) was leased by the City and replaced with a building that since became rundown and dilapidated.
Joan Lehman Sculpture Plaza (Flagler St. at SW 1st Ave)
Previously closed off to the public, the Joan Lehman Sculpture Plaza now features enhanced pedestrian access with park benches, meandering pathways, and newly planted trees.
Robert F. Clark Plaza (NW 1st Avenue and NW 1st Street)
Also once removed from the public right-of-way, this pocket park was restored and enhanced with pedestrian-friendly features.