Serving the Arts Luncheon is moving from the spring to the fall to celebrate the beginning of the new Arts Season!
Save the Date: September 15, 2009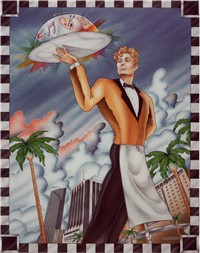 The Serving the Arts Luncheon is the premier networking and award recognition event for South Florida's cultural community honoring the corporations, patrons and individuals that keep the arts vibrant and thriving. To increase the significant impact of the Serving the Arts Luncheon, the Arts & Business Council of Miami will be celebrating this renowned event in September, to coincide with the beginning of an exuberant 2009 Cultural Arts Season! The new fall date will leverage the impact of the event on the arts groups we serve and provide audience development opportunities. Don't miss this opportunity to promote upcoming events and performances to the community. The luncheon will also feature theunveiling and launch of the 2009 Buy the Arts for the Holidays Program, a guide to purchasing corporate holiday gifts at museum gift shops and arts tickets as gifts.
For sponsorship opportunities or ticket sales call 305-326-1011