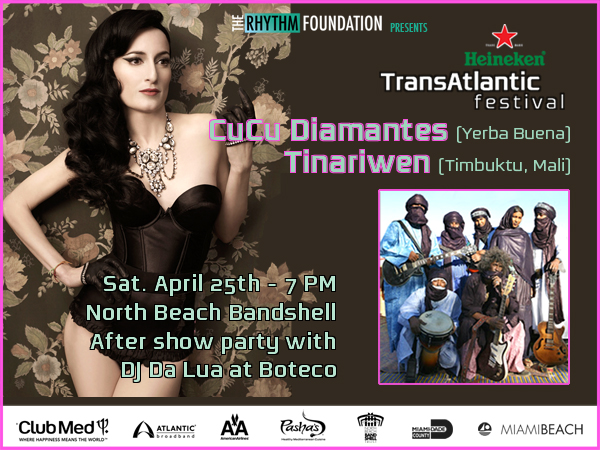 This Saturday, April 25th – 7 PM sharp
Heineken TransAtlantic Festival presents:
CuCu Diamantes (of Yerba Buena) and Tinariwen
North Beach Bandshell, 73rd Street and Collins Avenue, Miami Beach 33141
Free parking in the municipal lot across the street!
This is the FINAL NIGHT of the FESTIVAL
Tickets $20 advance (children under 12 free).
Click here for the complete Festival schedule + music and video clips and more.
After show party with DJ Da Lua (Bossacucanova) at Boteco
Conde Naste Traveller online: Miami goes Cuckoo for CuCu:
" As if you ever needed an excuse to head to Miami. Well, just in case, you'll have the perfect pretext tomorrow when a handful of groovy international artists pops into town for the Heineken Transatlantic Festival. The three-week extravaganza culminates on April 25 with maybe the oddest, and coolest, double bill I've ever heard of: The acclaimed, berobed-and-turbaned Tuareg band Tinariwen from Mali and vampy Cuban firecracker Cucu Diamantes. Longtime front woman for the funky Latin urban collective Yerba Buena, CuCu just released her debut solo album Cuculand. She owned downtown New York at her recent launch party at the Bowery Ballroom, a carnivalesque affair complete with contortionists, a midget emcee, and a bold brass section.
Visit CuCu Diamantes online
CuCu Diamanates's solo project, with legendary producer, composer and musician Andres Levin on guitar, builds on the sound of Yerba Buena, the band that redefined Latin Groove. The New York Times hailed the group as "one of New York's best new dance bands, mixing up the Latin boogaloo of the 60's, Cuban religious music, some American soul and Fela-like Afrobeat." CuCu brings similar energy to her new solo project, combing jazz savvy and vintage glamour with the sly grit of New York, a touch of cabaret, and the pulse of Afro-Cuban beats.
Visit Tinariwen online
"Tinariwen capture …Keith Richards, Ry Cooder and Ali Farka Toure picking side by side under an unforgiving sun." – Rolling Stone. "The Clash of the desert," Tinariwen are nomadic Touareg guitar-poets from Mali's southern Sahara. Their music carries the message of freedom and resistance among their people, and formed the soundtrack to the 1990 Touareg rebellions in Mali and Niger. Their sound is traditional tribal melodies transposed to electric guitar, mixed with blues, rock, pop, Berber and Arabic influences – a modern desert rock. Tinariwen have won countless awards for Best CD of the Year in polls around the world and a prestigious BBC Award for World Music. They also co-founded the seminal Festival in the Desert in 2001 in Timbuktu. They are visiting Miami Beach after Coachella Festival.
See you there!
The Heineken TransAtlantic Festival is presented with support from Heineken USA, Club Med, American Airlines, Pasha's Restaurants, Atlantic Broadband, Business Centers International, North Beach Bandshell Trust, John S. and James L. Knight Foundation, National Endowment for the Arts, City of Miami Beach Cultural Arts Council, Miami Dade Department of Cultural Affairs.