Randy Shannon to be honored at the 7th annual
BLUE CROSS BLUE SHIELD OF FLORIDA ORANGE BOWL- FIELD OF DREAMS SCHOLARSHIP BENEFIT
Chrisette Michele Performs
Recognitions include Senator Christopher L. Smith, Barrington Irving and Clarence Anthony
Friday May 8th, 2009 at the Broward County Convention Center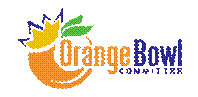 The Orange Bowl Committee will hold its 7th annual Blue Cross Blue Shield of Florida Field Of Dreams Scholarship Benefit on Friday May 8th, 2009 at the Broward County Convention Center, reception 7pm, dinner program 8pm. The Orange Bowl Keith Tribble Trailblazer will be awarded to University of Miami Head Football Coach Randy Shannon. Other recognitions include Barrington Irving, the youngest and first black person to pilot a plane around the world solo, Christopher L. Smith Florida State Senator District 29 and founder of The Chris Smith All-star Football Classic, and Clarence Anthony former Mayor of South Bay and is presently the Chief Marketing Officer and Presiding Director of the Board of Directors for Post Buckley Schuh & Jernigan, Inc
"The Orange Bowl Committee is dedicated to giving back to the community especially as it pertains to youth academic and athletic programs," says Lynn Washington, co-chair of the Blue Cross Blue Shield of Florida Orange Bowl Field of Dreams Committee. "We invite the public to join us as we celebrate America's future leaders, and continue the OBC's legacy of 75 years of making our community better."
The Orange Bowl Keith Tribble Trailblazer Award honors an individual who has made a significant impact in South Florida. The award is annually presented to an innovator, pioneer and ground breaker, a person who has helped open doors, blazed trails and prepared a way for others to have better lives. In 2009, this prestigious award goes to University of Miami Head Football Coach and Miami's native son, Randy Shannon.
Shannon was named head football coach of the University of Miami on December 8, 2006. A native of Miami, Shannon, played at Norland High School before moving on to the University of Miami where he was a four-year letterman and starting outside linebacker on the 1987 national championship team. After graduation, he played for the Dallas Cowboys before moving into coaching first at the University before joining the Dolphins staff. He returned to UM as defensive coordinator for six years, coaching top 10 defenses in five of those six seasons before being named the 20th head coach in school history. Shannon, 43, played on or was a coach for three of the school's five national championship teams. He is one of only seven African American head coaches from among the 119 schools in the Football Bowl Subdivision (formerly Division 1-A…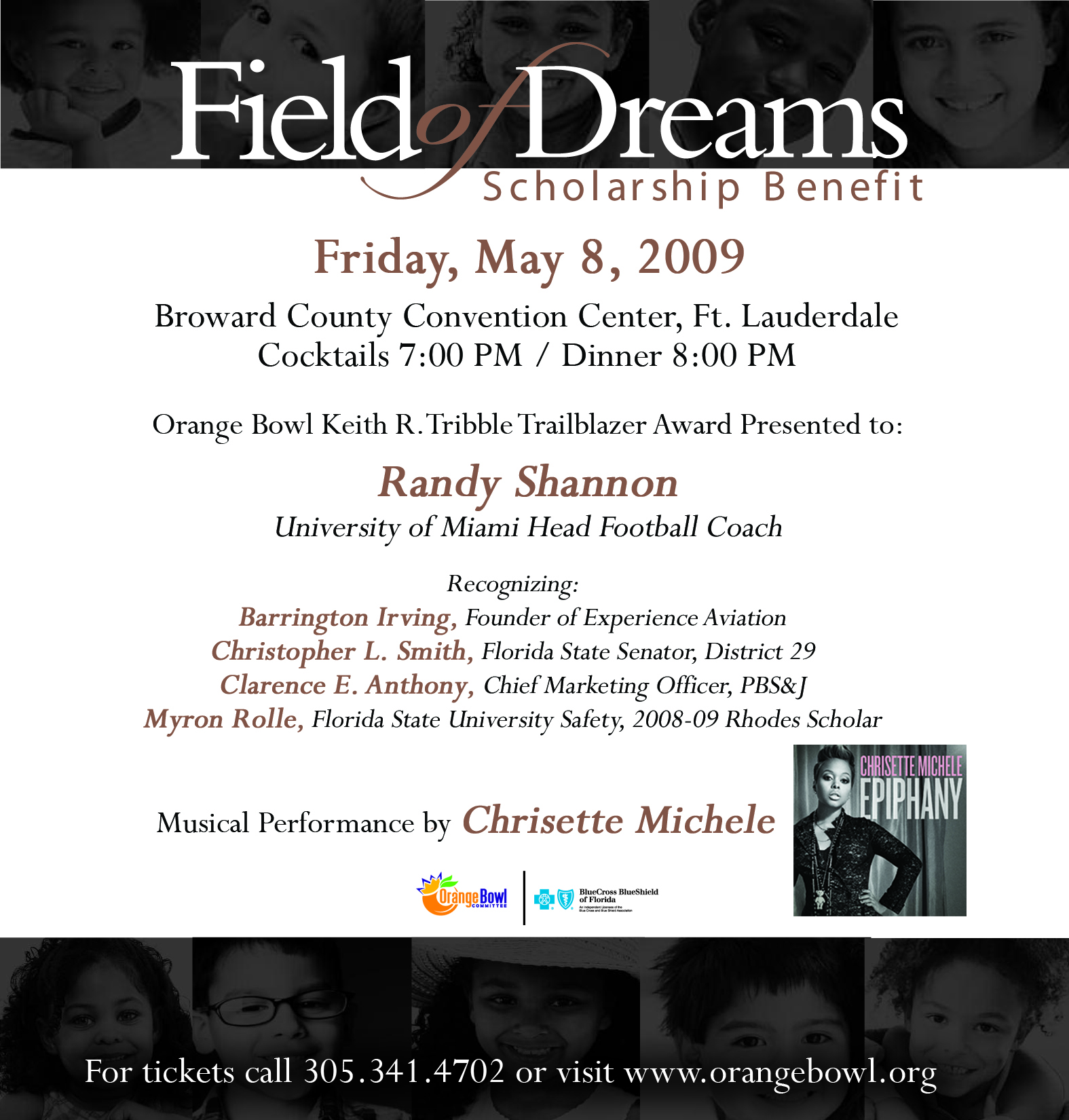 MUSICAL PERFORMANCE
The benefit will also include a special performance by two-time Grammy-nominated, soul songstress Chrisette Michele. Chrisette Michele has had an "Epiphany" with her Ne-Yo penned single. Aptly titled "Epiphany" Michele's highly anticipated sophomore album follows her 2007 certified gold album I AM. This beautiful 23 year old is a singer songwriter and composer who is signed to Def Jam Record by Antonio "L.A." Reid who told her he had "goose bumps" after the first time he heard her. "When Chrisette Michele enters a room," said Mr. Reid, "the room becomes a better place."
SPECIAL RECOGNITIONS
On June 27, 2007, 23-year-old Captain Barrington Irving, who was born in Kingston, Jamaica and brought up in inner-city Miami, secured his place in history as the youngest person and first black pilot to fly solo around the globe.
On his 97-day journey, he flew 30,000 miles in a single-engine aircraft called Inspiration, encountering thunderstorms,
snow storms, icing, sand storms and monsoons along the way. His purpose in making the trip was to show other youth that if he could achieve his dream, they can too. In February, 2007 on Capitol Hill, Barrington was presented with a Congressional Resolution honoring his achievement and acknowledging his pioneering work in the field of aviation education. Two months later, the Florida State Senate awarded him their highest honor, the Medallion of Excellence.
Christopher L. "Chris" Smith was elected to the Florida Senate in 2008, for District 29 which encompasses a variety of cities spanning Broward and Palm Beach counties. Previously, he was a member of the Florida House of Representatives for District 93 in Broward from 1998-2006, including serving as the Democratic House leader form 2004-2006. He led the charge to reform the elections process in Florida after the Election of 2000. He helped author the election reform bill that is now law in Florida and is being used as a model nationwide. A native of Ft. Lauderdale, Chris was appointed as the youngest member of the City's Planning Zoning Board in 1995, the same year he received his J.D. degree from Florida State. He spent his formative years actively involved in many youth organizations including the Fort Lauderdale Branch of the National Association For The Advancement of Colored People (NAACP) Youth Council, ascending to the position of president.
Clarence E. Anthony, a native Floridian, served as Mayor of South Bay, Florida, from 1984 to March 2008. He is known as a creative and thoughtful leader in his community, and has been on the forefront of politics in Florida and the nation for the past 24 years, culminating with very productive presidencies of the Florida League of Cities and the National League of Cities, respectively. Mr. Anthony is presently the Chief Marketing Officer and Presiding Director of the Board of Directors for Post Buckley Schuh & Jernigan, Inc He earned his B.A. in Criminal Justice and Master of Public Administration from Florida Atlantic University. He has served as director of the Office of Equal Opportunity for the Palm Beach County Board of Commissioners and the Board of Directors for Correctional Properties Trust from 1998 – 2007. He is presently a director for the National Conference of Black Mayors, is a member of the Leadership Florida Board of Trustees, and a board member for the Palm Beach County Cultural Council.
"Everything is in place for one of the more successful, star-studded and meritorious group of honorees since the Field of Dreams began. This promises to be one of the premiere events of the season. Now part of the Orange Bowl Committee's 75 year legacy, our Field of Dreams offers a can't miss night of entertainment, recognition and the generous spirit of South Florida," comments Antonia "Toni" Williams-Gary, Co Chair of the Blue Cross Blue Shield of Florida Orange Bowl Field of Dreams Committee.
The Field of Dreams Scholarship Benefit is an annual Orange Bowl Committee event with a purpose of providing college scholarship funding for deserving high school seniors. The program has awarded individual scholarships, and contributed over $300,000 for African-American scholarships to organizations such as the Tom Joyner Foundation, The Thurgood Marshall Scholarship Fund, Florida Memorial University's Athletic Scholarship Fund and the UNCF.
For more information and/or to purchase tickets please contact Latoya Williams at (305) 341-4728 or lwilliams@orangebowl.org. All media inquiries should be directed towards Circle of One Marketing at (305) 576-3790.
About the Orange Bowl Committee
The Orange Bowl Committee is a not-for-profit, 330-member, primarily-volunteer organization. It is a self-sustaining, independent organization that supports and produces activities and events that enhance the image, economy and culture of South Florida. The Orange Bowl Festival features a year-round schedule of events culminating with the FedEx Orange Bowl on January 5, 2010. In 2013, the OBC will again double-host both the FedEx Orange Bowl and the BCS National Championship. Other OBC core events include the MetroPCS Orange Bowl Basketball Classic, Orange Bowl Youth Football Alliance, Orange Bowl International Tennis Championships and Orange Bowl Sailing Regatta Series. For more information on the 2009-10 Orange Bowl Festival and its events, including promotional and volunteer opportunities through the Ambassador Program, log on to www.orangebowl.org