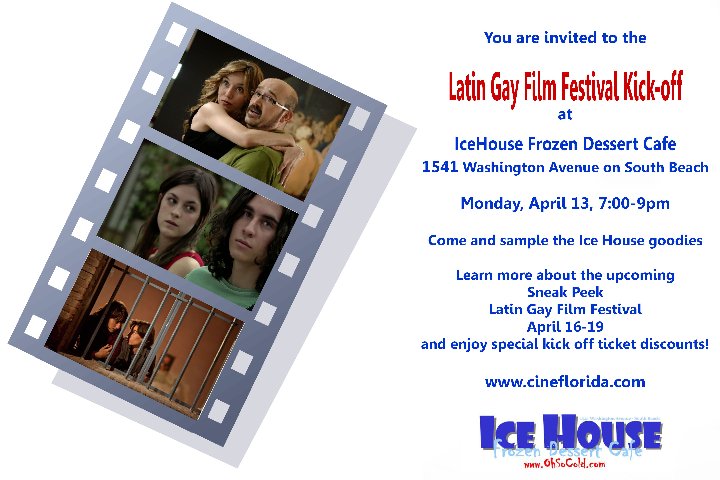 Please join us for this free kick off event -it will be sweet!
LGFF kick off invitation – Monday, April 13th, 7:00 to 9:00 PM
Cine Florida
The First Annual Miami Latin Gay Film Festival has been announced to make its premiere engagement April 16-19, 2009 in Miami Beach.
Festival organizer and Executive Director Jim Dobson unveiled a sneak peak at the four day event to take place in South Beach which will coincide with Miami Gay Pride Weekend.
"I am thrilled to be able to bring this exciting venture into South Beach filling a much needed gap in alternative programming for the Latino Gay community" said Dobson. "Through my six years of working with the Miami Gay & Lesbian Film Festival, I have noticed a huge demand for Latin Gay films and programming that was not always possible. The few Latin films programmed were always the first to sell out which proved a definite demand by the community."
The Miami Latin Gay Film Festival will open on Thursday, April 16 with a Gala Premiere presentation at the Colony Theater followed by a spectacular party, all on Lincoln Road in South Beach. The Festival will continue with screenings, panels, music events and a few surprises along the way. Closing Night Awards Gala and screening will take place on Sunday, April 19 at the Colony Theater followed by a special musical event and party.
The mission of the Miami Latin Gay Film Festival is to showcase and nurture existing and emerging creative talent while serving as a springboard and catalyst for the promotion of Gay Latin films and filmmakers as well as highlight exciting Latino talent in other areas including music.
A premier Latino Gay International Film Festival in the USA, MLGFF will eventually become the prominent venue for exhibition of the best of Gay Latin cinema and artistry from the United States, Latin America, Mexico, Spain, Portugal and beyond.
The Festival will present feature films, documentaries, shorts and special retrospective screenings. The films presented at the Festival showcase a wide variety of themes by Gay Latino filmmakers, producers, writers and actors, as well as movies that depict Gay Latino culture. It is a competitive festival with prizes and a venue where filmmakers and artists can come together with buyers and industry.
The Miami Latin Gay Film Festival will also run the "Best of the Fest" simultaneously with the Ft. Lauderdale International Film Festival as well as contributing a substantial donation from its Closing Night to Care Resource.