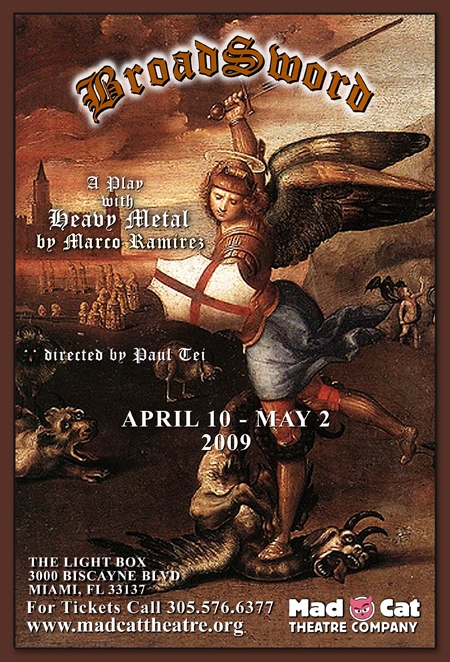 Mad Cat Theatre Company presents BroadSword a new play by Marco Ramirez
April 10th – May 2nd 2009
Thursdays-Saturdays 8pm
The Light Box
3000 Biscayne Blvd #100, Miami, Fl 33137
Admission is $25; Students are $10 with valid I.D.
Cash or Check only
Call (305) 576-6377 for reservations and info.
Myspace Page
Mad Cat Theatre Company returns for its second production of its ninth season with BroadSword, a new play by Marco Ramirez. BroadSword is a play with heavy metal. 16 years ago, the heavy metal band BroadSword, from Rahway, New Jersey, unexpectedly broke up and the 4 members went their separate ways. Now the mysterious disappearance of their lead guitarist, Richie Gomez, reunites the original band members along with the band's biggest groupie and some creepy old guy to figure out what the hell happened to Richie.
Directed by Paul Tei, BroadSword stars Mad Cat company members Erik Fabregat, Paul Tei, Scott Genn, Sofia Citarella with guest actor George Schiavone and the return of former company member Gregg Weiner.
-SPECIAL OPENING NIGHT CELEBRATION-
FRIDAY, APRIL 10, 2009
Celebrate the opening of BroadSword with food, libations, and a meet and greet with the cast with your purchase of a $40 Opening Night Ticket to the show. Event begins at 7:00 p.m. Show begins at 8:00 p.m. To purchase tickets with a credit card for Opening Night ONLY call Miami Light at 305.576.4350.