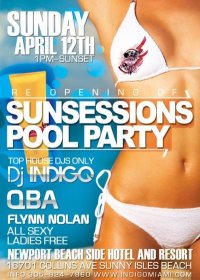 Saturday, April 11, 2009
1:00pm – 8:00pm
Newport Beachside Resort
16701 Collins Avenue
Sunny Isles, FL
Come join me this week as I play as a Guest Dj from 2 to 4 pm. Enjoy the hot sun in this Sundays Biggest event- SUN SESSIONS Pool Party @ Newport Beachside Resort. This party was said to be one of the biggest Sunday daytime events in Miami. We have had a tremendous success as we reached the maximum number of guests last week, which were grooving under the hot sun, accompanied by the Sounds of DJ INDIGO and other guest Djs. Newport Beachside Resorts pool terrace caters to young adults as well as to grown & sexy as it has two large ocean-overlooking pools, a Jacuzzi area, and two large private VIP areas. Upon the arrival, all VIP guests will be escorted to their seating area with no waiting or missions.
Event hosting and security provided by Sinner Entertainment. Bottle service is strongly suggested.
RSVP 954 918 6209