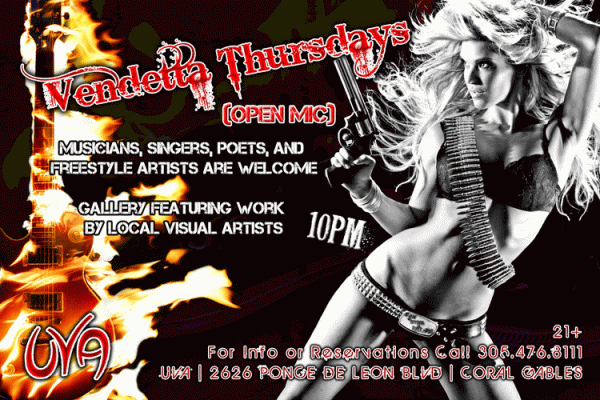 Location: UVA
Street: 2626 Ponce de Leon Blvd
City/Town: Coral Gables, FL
Thursday, April 9, 2009 at 9:00pm
Please join us Thursday April 16, 2009 from 10 pm – 2 am for an evening of Live Art and Music. Vendetta Thursdays at UVA in Coral Gables is a weekly event where Artists and Musicians perform.
Displayed ART and One Night Only LIVE Demonstrations By R. E. SANCHEZ
For the first time in Miami an open Mic For Any type of Art! …Live music, featuring bands every week and a walk in Art Gallery!
Come and disconnect from the world in this amazing event that happens every week… support Your Locals and Become Part of this Movement of Amazing Souls Making A Difference!
UVA
2626 Ponce De Leon
Miami Fl, 33134
786 356 7399
What more could you ask for?
You're gonna Feel sooo good You're not gonna wanna Leave
This week, featuring R. E. SANCHEZ