Chopin for All series of free concerts
Presents piano recital by sensational Julia Kociuban,
17 – year old Winner of the 2008 National Chopin Competition of Poland
Saturday, April 25, 2009 at 7:00 PM
Broward County Main Library, 100 S. Andrews Ave, Ft. Lauderdale
Sunday, April 26, 2009 at 3:00 PM
Granada Presbyterian Church, 950 University Drive, Coral Gables
Program
Music by Mozart, Brahms, Prokofiev & Chopin
Complimentary Admission
Ms. Kociuban will also perform in Philadelphia, Cleveland and Akron, OH, in Barboursville, VA, New York, and Key West.
For more information: Please call Chopin Foundation at 305-868-0624 or visit www.chopin.org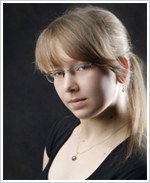 The 17-year old winner of the 2008 Polish National Chopin Piano Competition, Julia Kociuban, was born in Krakow, Poland. Ms. Kociuban is a student of the Mieczys³aw Kar³owicz State Music School in Krakow where she has studied with Olga Lazarska (1998 – 2006) and Prof. Piotr Paleczny since 2006.
Julia has won several important national and international piano competitions, among them are the International Piano Competition "Konzerteum" in Greece, 2000; K³odzko Piano Competition in Klodzko, Poland, 2001; International Competition "Gradus ad Parnassum" in Kaunas, Lithuania, 2001; Jan Sebastian Bach International Piano Competition in Gorzów Wielkopolski, Poland, 2002; Chopin Piano Competition for Children in Jelenia Góra, Poland, 2002 & 2005; International Chopin Piano Competition in Narva, Estonia, 2004; Milosz Magin International Piano Competition in Paris, France, 2005; and International Piano Competition "A Step Towards Mastery" in St. Petersburg, Russia, 2007.
She is a recipient of several scholarships including one from the Mr. and Mrs. Kwaoniewski Foundation (Former President of Poland), the City of Krakow Scholarship, Creative Scholarship of the City of Krakow, Ma³opolska Foundation "Sapere Auso" and from Poland's Ministry of Culture. She has also been a beneficiary of the Polish Children's Fund in Warsaw since year 2000.
In July 2003 she took part in the international program Morningside Music Bridge in Calgary, Canada. Since 2004, she has participated in Master Classes presented during the Int'l Chopin Festival in Duszniki, Poland, and lead by pianists and piano teachers of international acclaim. In 2007 she was a chosen participant of Holland Music Sessions in Bergen.
Julia was invited to play in many festivals, such as the International Festival for Young Talents in Kaunas, Lithuania, David Oistrach Festival in Parnu, Estonia, "Chopin Days" in Warsaw, Young Artists Festival in Krakow, Konzertzyklus in Vienna, Third International Piano Festival in Warsaw and in "Altenburger Musikfestival" in Germany.
She has performed in Poland, France, Germany, Russia, Estonia, Canada, Austria and Lithuania. As a soloist she has played with Beethoven's Academy Orchestra, the Slask Philharmonic Orchestra, the Krakow Philharmonic Orchestra, Sinfonietta Cracovia, the Dolnoslaska Philharmonic Orchestra, the
Parnu City Orchestra, the Tallinn Chamber Orchestra, and the Warsaw Academy Orchestra.
Julia also enjoys playing chamber music. She has performed several concerts with her brothers as a "Family Trio" in Krakow Philharmonic Hall, Royal Castle in Warsaw and in Altenburg, Germany.