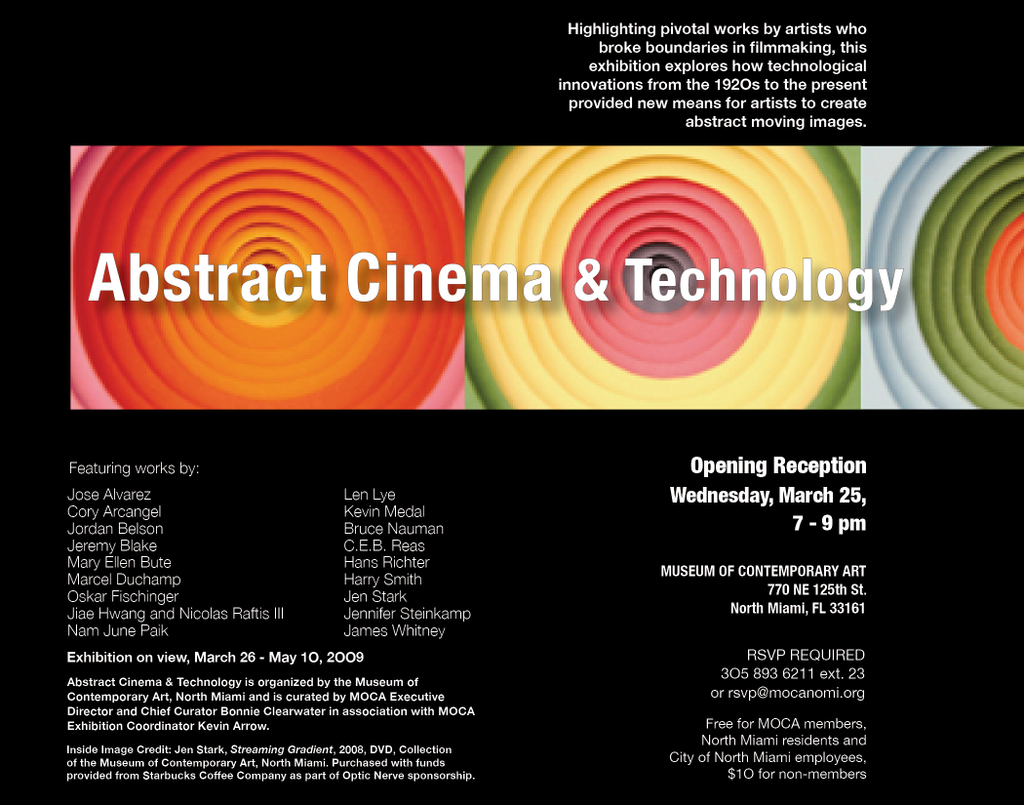 Opening Reception for Abstract Cinema and Technology, Wednesday, March 25, 7-9 pm
RSVP: rsvp@mocanomi.org
Highlighting pivotal works by artists who broke boundaries in filmmaking, Abstract Cinema & Technology explores how technological innovations from the 1920s to the present provided new means for artists to create abstract moving images. On view March 25 – May 11, 2009 the exhibition brings together a wide range of artists who have pioneered advances in media ranging from early experimentation with celluloid, color, light, and sound to new digital technologies that allow for direct viewer interaction with the work. Most of these artists are recognized for their advancements in media arts instead of traditional art forms. The exhibition is organized by the Museum of Contemporary Art, North Miami and is curated by MOCA Executive Director Bonnie Clearwater, in association with MOCA Exhibition Coordinator Kevin Arrow.
The exhibition features works by Jose Alvarez, Cory Arcangel, Jordan Belson, Jeremy Blake, Mary Ellen Bute, Marcel Duchamp, Oskar Fischinger, Jiae Hwang and Nicolas Raftis III, Nam June Paik, Len Lye, Kevin Medal, Bruce Nauman, C.E.B. Reas, Hans Richter, Harry Smith, Jen Stark, Jennifer Steinkamp, Stan VanDerBeek, and James Whitney.
Abstract painting and moving pictures evolved simultaneously. Both represented modern times and a new world view. While painting was steeped in tradition and history, film, video, and computer technology have provided opportunities to imagine entirely new approaches to non-objective forms and to liberate the imagination.
In many ways, film and successive technologies achieved the physical and mechanical goals of 20th century abstract painters. One such goal was to equate abstraction with music whereas painters imagined composing the equivalent to music with color and form. Film, video, and computers made it possible to directly link abstract forms and color with their own musical orchestration. Spirituality inspired the compositions of many abstractionists, including filmmakers who created contemplative works that combined mystical light and the movement of symbols and mandalas. While many of the Abstract Expressionists painted large canvases in order to encompass the viewer, film projection made it possible to totally engulf the viewer in cinematic fields. New computer technology even makes it possible for viewers to directly intercede into the composition.
Montage and collage in painting suggest the simultaneity of events frozen in the momentary stasis of the canvas. The same technique is used by experimental filmmakers to suggest the elusiveness of time. As film, video and computer generated images can be infinitely looped, they are especially conducive to presenting the repetitive forms of serial minimalism. Many abstract painters of the 20th century aspired to achieve the appearance that the forms on their canvases were autonomous and self-generating. They created the illusion that the colors and forms were expanding, contracting, and pulsating forward and backward from the picture plane. Today, computer programs make it possible for artists to produce truly autonomous works that can determine their own morphing shape.
The experimental filmmakers of the early twentieth century invented techniques for creating their forms on celluloid. Painting or altering the celluloid required infinite patience and skill, as did the development of animation that used multiple cells to create movement or the methods for stop-action animation. Television presented new possibilities as artists manipulated images transmitted into the TV set or provided their own video footage, while computer technology has made it possible to animate virtual forms.
Early European Dadaist artists experimented with black and white cinema to create a new means of aesthetic experience. Hans Richter's first film, Rhythmus 21 (1921-1924) used squares and rectangles to create a complex composition to play on ideas of perception, especially how light can create the illusion of movement and depth within the cinematic experience. Marcel Duchamp's Anemic Cinema (1926), in collaboration with Man Ray, is also a study in perception. The film of spiraling discs alternates between hypnotic black-and-white discs that optically advance and recede and discs inscribed with verbal puns. Duchamp juxtaposed image with language in an era when silent films and written text went hand-in-hand.
In North America, advents in abstract animation led to developments with color and music, resulting in terminology such as visual music and optical poetry. Mary Ellen Bute's Rhythm in Light (1934) premiered at Radio City Music Hall in New York and juxtaposed the music of Edvard Grieg's Anitra's Dance with kaleidoscopic geometry of photographic and hand-drawn imagery. Len Lye, a nationalized New Zealander, painted colors and scratched directly onto celluloid, resulting in such works as Color Box (1934), which established direct filmmaking as an important form of animation. Oskar Fischinger's work has influenced generations of filmmakers. Beginning in 1920s Germany, this non-objective filmmaking master began creating visual music with geometric shapes tightly choreographed to classical music and jazz. He is widely known for his influence on the Disney classic Fantasia. Harry Smith's hand-painted animations have been described as mystical cinematic experiences; with some works taking years to produce.
Major animators pioneering changes from hand to technological innovation show the parallel techniques of hand-craft, working directly on film, as technological advents in computers provided new potential for artistic production. California artist James Whitney, created the imagery in his hand-drawn film Yantra (1955) by punching grid-like patterns on 5 x 7 inch cards and using analog computer equipment developed by his brother, John Whitney, the pioneer of modern computer graphics, to create Lapis (1965), which consists of hundreds of constantly moving points of light. The works of Jordan Belson, another pioneer of visual music, include Allures (1961).
Stan VanDerBeek, who was fascinated with new languages, new structures of thought and new approaches to making art worked with computers and television. The work Symmetrics, 1972is a prime example of VanDerBeek's lifelong interaction with computer and electronic imagery.
Bruce Nauman utilizes body performance as means toward abstraction. In Lip Sync (1968), a video camera turned upside down is positioned closely on the filmmaker's face, which has been turned upside down, thereby transforming the sequence into abstraction. Nauman speaks the words of the work's title as a continuous chant that is out of synchronization with the image. The repetition of the phrase transforms the words into abstract sound.
Nam June Paik, who pioneered cathode ray, video manipulation and analog distortion of television sets that play distorted analog images. On view in the exhibition are two of Paik's works: Beatles Electroniques (1966-69) made in collaboration with Jud Yalkut features black-and-white bits from the movie A Hard Day's Night to which Paik electromagnetically improvised distortions on the receiver. Also included is Paik's sculpture Burn Calories Not Octane (1993), featuring thousands of clips of television broadcast that alternate with abstract patterns created by the artist.
Jeremy Blake's Station to Station 1-5 (2001) is a series of five gridded time-based paintings (digital animations on DVD) that represents stations of an imaginary urban transportation system and travel between the stations. Cory Archangel's Untitled (After Lucier), 2006, is a an image that degenerates over the course of the exhibition. The film displays the Beatles' seminal US performance on the Ed Sullivan Show circa 1964. An exercise in impermanence, this endless silent loop of the performance continually degrades through a program that disrupts the clarity of the image until the entire work breaks down into a single monochrome color, falls apart and stops working.
By tapping directly into the structural aspects of computer programming as media C.E.B. Reas's Process 16 (2006) explores the dialectical relationship between naturally evolved systems and those that are engineered and synthetic. Reas, who co-founded the Open Source software language 'Processing' with Ben Fry at MIT, derives his software from short text instructions explaining processes that define networks; the instructions are expressed in different media including natural language, machine code, computer simulations, and static images.
Constructed using old and new technologies, Kevin Medal's As Pergill Us (2008), weaves thousands of hand-drawn images in a dazzling continuous morphology of luminous abstractions. In addition, Miami artist Jen Stark, whose work Streaming Gradient (2008), fuses time consuming work methods of the pioneers of experimental film with current digital technologies, creating an ever unfolding video of stunning beauty.
Jennifer Steinkamp's computer generated installation, Smokescreen (1995-2004), creates the sensation that the viewer is walking between two layers of space. Jiae Hwang and Nicolas Raftis III's new project, Metastability Mirror (2009), displays a mysterious work of atmospheric distortions and ghostly forms that constantly changes as the viewer approaches it.