THE ENERGY AND THE GLAMOUR ARE BACK !
THE NEW BASH (La Folie) PATIO OPENS ON MARCH 20
Having undergone a total renovation and design remodeling, the world famous South Beach nightlife hot spot opens on March 20th.
High energy, high glamour "Eurolatin" nights promise to be the trendiest, and sexiest raves in town!.
Totalement rénove et dote d'un fabuleux nouveau design, le club qui a rendu South Beach légendaire dans le monde entier ouvre le 20 Mars.
Que Miami se prépare pour les nuits "Eurolatines" les plus énergiques, éclatantes, voluptueuses et mode qui puissent s'imaginer !.
Totalmente renovado y con un fabuloso Nuevo diseño, el club que hizo a South Beach una legenda mundial abre el dia 20 de Marzo .
Que Miami se prepare para las noches "Eurolatinas" las mas energicas, glamorosas, de moda y sexy que se puede imaginar !.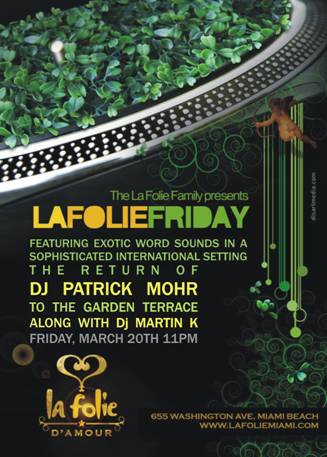 655 Washington Avenue, Miami Beach 33139
RSVP and Guest list at vengo@bellsouth.net