Please join us on Saturday, Dec 13, 5-9 pm at the Dorsch Gallery to see Shapeshifter. We will serve alcohol-free refreshments, in an effort to go lightly following Basel week.
Shapeshifter includes work by Jenny Brillhart, Elisabeth Condon, Robin Griffiths, Richard Haden, Michelle Hailey, m lafille, Martin Murphy, Ralph Provisero, John Sanchez and Kyle Trowbridge.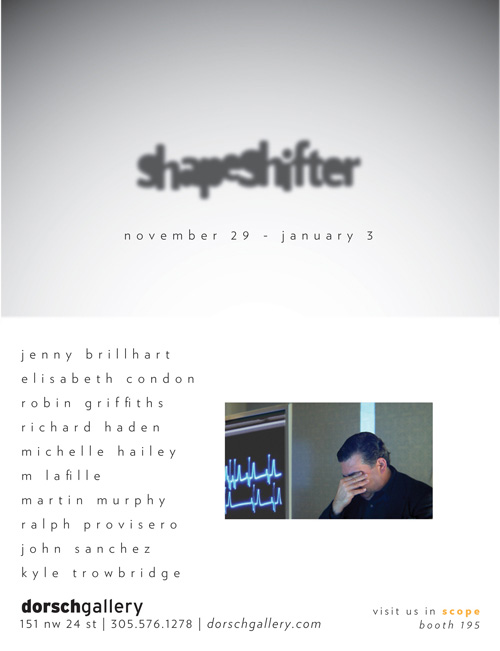 Also, look for a studio visit with Richard Haden on artlurker.com, an interview with Haden, and a tour of Shapeshifter at the following links:
http://vernissage.tv/blog/2008/12/09/interview-with-richard-haden-dorsch-gallery-miami/
http://www.artlurker.com/2008/12/art-basel-miami-beach-2008-studio-visits-richard-haden/
http://vernissage.tv/blog/2008/12/01/shapeshifter-dorsch-gallery-miami/
A work by Ralph Provisero appears in excellent company – see The Martin Z. Margulies Collection book, released this December. Provisero's work is also on view at CasaLin in "Yardwork".
Dorsch Gallery is located at 151 NW 24 Street, Miami, FL. Contact us at 305-576-1278 or brook@dorschgallery.com. We are open Tuesday-Saturday 11-6pm. For more information, see dorschgallery.com.