Kick Off Art Basel with Italy's Finest Female/Male Fashion Retailer, MARNI with a Grand Opening on Dec. 2nd from 5PM – 8PM
We wish to invite you to the MARNI boutique opening on Tuesday, December 2nd.
It is conveniently located across from the InFashion Art Expo. We hope to see you there!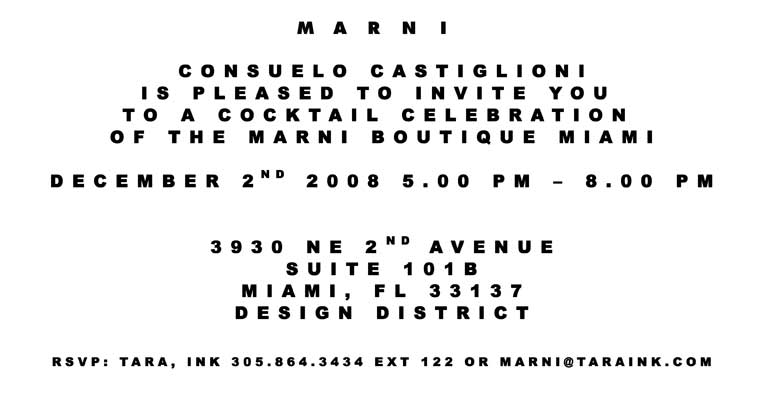 Marni is pleased to announce the opening of its first flagship store in Miami. The boutique, situated in 3930 NE 2nd Avenue, Suite 100, captures the mood of Miami's Design District taking inspiration from the streamlined, rhythmic patterns of the Art Deco style for which the city is famous.
Simple glazing of about 25 meters forms two of the boutique's exterior walls making the façade appear wide open, capitalizing on the bright, sunny climate and giving the space an airy lightness.
For the design concept of the 230 square meter store, Consuelo Castiglioni and the architects from Sybarite played with circular forms, repeating them throughout the boutique. Graduated patterns of semi-spheres in white timberland and "haute relief as decoration on the wall echoes the texture of local Art Deco buildings and becomes the signature element of the Miami boutique. Clusters of varying sized backlit fiberglass boxes, painted in a random spray from translucent white to natural tones, are set in the walls accommodating bags, jewelry and sunglasses.
Round tiered shoe displays in stainless steel are scattered around the space along with round leather stools, modular seating and beige colored circular rugs, breaking up the expanse of polished concrete floor.
Appearing to float on minimal supports a stainless steel rail undulates around the perimeter, inside of which stainless steel trees fan out. Mannequins sprayed from white to natural tones, hang from the ceiling, accentuating the sense of weightless suspension in space. A special area in the anti-fitting room is dedicated to the lingerie collection, which is presented in upholstered leather boxes.
This intriguing setting contributes to the heritage of Miami's Design District and provides an unexpected and captivating way of presenting Marni ready to wear and accessories collections.