Psychedelics Happy Hour Mixer
Friday, 11/10/2023-, 04:00 pm-08:00 pm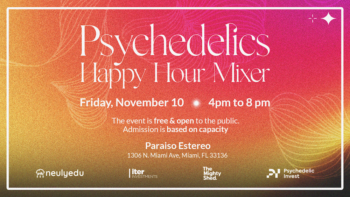 Paraiso Estereo
1306 N. Miami Ave.,
Miami, Florida, 33136
RSVP / Register
Cost:
At this psychedelic happy hour mixer presented by Iter Investments, Neuly, Psychedelic Invest and The Mighty Shed, guests will enjoy cocktails, music from local DJs, and activations from industry leaders in the psychedelics space. Attendees will also have the opportunity to meet with psychedelic venture capital funds, investors, executives, and more. The event will take place in the heart of downtown Miami at Paraiso Estereo.
This free event is open to the public, but will require an RSVP with confirmation, and attendance will be limited by capacity.
About Iter Investments:
Iter Investments is an investment firm that deploys capital in and around the burgeoning psychedelic industry. Iter Investments invests with the mission of re-imagining how the mental health and wellness industry delivers care. For more information, visit www.iterinvestments.com or email contact@iterinvestments.com.
About Neuly
Neuly is a leading psychedelics data platform that provides researchers and drug developers with access to a comprehensive dataset of psychedelics research. Neuly's platform includes a variety of features to help researchers and drug developers save time and improve the efficiency of their work. For more information visit www.neuly.com.
About Psychedelic Invest:
Psychedelic Invest is a resource equipping investors with reports and insights spanning the growing industry of plant, entheogenic and psychoactive medicines. For more information, visit www.psychedelicinvest.com.
About The Mighty Shed
The Mighty Shed is an independent cultural foresight, strategy and innovation partner to ambitious companies looking to maximize their growth potential. The Mighty Shed helps clients achieve the short-term wins that drive long-term growth by using informed imagination to spark their next strategic growth opportunities and deliver brand innovation. For more information, visit themightyshed.com/.