Psychedelic Series Panel: Psychedelia Media – Changing Perception
Wednesday, 11/08/2023-, 07:00 pm-08:30 pm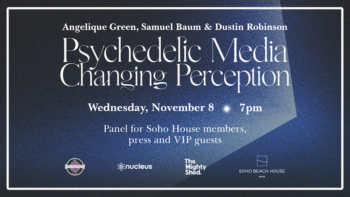 Soho Beach House Miami
4385 Collins Ave.,
Miami Beach, Florida, 33140
Website
Cost:
In continuation of its nearly three-year collaboration with Soho Houses worldwide, Iter Investments presents a Psychedelic Series panel at Soho Beach House Miami on Wednesday, Nov. 8 at 7 p.m. The Psychedelic Series features experts in the psychedelics space including CEOs, doctors, lawyers, and celebrities. For this month's exploration of the future of psychedelics, the Psychedelic Series panel will discuss the ways media and marketing are shifting the messaging, look and feel for a new generation.
Panelists include Angelique Green, former Starbucks marketing lead and founder and CEO of The Mighty Shed; Sam Baum, former Red Bull Director of Marketing, advocate and visionary behind the Psychedelic Series; and Dustin Robinson, Esq., CPA, managing principal of Iter Investments, co-founder of Mr. Psychedelic Law, founding partner of Mr. Cannabis Law, and co-founder of Nucleus.
This event is private and open for Soho House members, press, and VIP guests.
About Iter Investments:
Iter Investments is an investment firm that deploys capital in and around the burgeoning psychedelic industry. Iter Investments invests with the mission of re-imagining how the mental health and wellness industry delivers care. For more information, visit www.iterinvestments.com or email contact@iterinvestments.com.
About Neuly
Neuly is a leading psychedelics data platform that provides researchers and drug developers with access to a comprehensive dataset of psychedelics research. Neuly's platform includes a variety of features to help researchers and drug developers save time and improve the efficiency of their work. For more information visit www.neuly.com.
About Psychedelic Invest:
Psychedelic Invest is a resource equipping investors with reports and insights spanning the growing industry of plant, entheogenic and psychoactive medicines. For more information, visit www.psychedelicinvest.com.
About The Mighty Shed
The Mighty Shed is an independent cultural foresight, strategy and innovation partner to ambitious companies looking to maximize their growth potential. The Mighty Shed helps clients achieve the short-term wins that drive long-term growth by using informed imagination to spark their next strategic growth opportunities and deliver brand innovation. For more information, visit themightyshed.com/.