The Equivalent of Sensation by Femuscripts
Saturday, 09/09/2023-09/10/2023, 02:00 pm-04:30 pm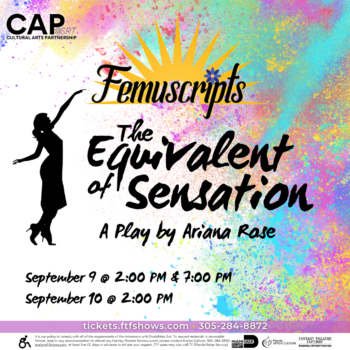 Sandrell Rivers Theater
6103 NW 7TH AVE,
Miami, Florida, 33127
Website
Cost: GA: $28.00 Student/Senior: $15.00
Sisters Etta and Claribel Cone are gifted with a day of life decades after their deaths. They spend it in a gallery where their collection of art, in a wing named after them, is exhibited. Gertrude Stein and her partner Alice B. Toklas crash the party. A Matisse painting comes to life and guides the four from the present to the past and back again. As they relive their lives, timid Etta examines her relationships with the others and makes new discoveries about her own vibrant inner life. This delightful and exuberant play will take you on a journey that is highly relevant to women's lives today.
About CAP@SRT: Fantasy Theatre Factory at the Sandrell Rivers Theater presents Cultural Arts Partnership (CAP). CAP seeks to form unique, program-driven partnerships with emerging and established cultural organizations or artists dedicated to the creation and presentation of innovative, thought-provoking, diverse, and/or new artistic work (theatre, dance, music, art, multidisciplinary) to be part of our season of the arts at the Sandrell Rivers Theater.
ADA Accommodations: It is our policy to comply with all of the requirements of the Americans with Disabilities Act. To request materials in accessible format, and/or any accommodation to attend any Fantasy Theatre Factory event, please contact Evelyn Gigiras Sullivan, 305-284-8800, evelyn@ftfshows.com, at least five (5) days in advance to initiate your request, TTY users may also call 711 (Florida Relay Service).
*Ticket sales are FINAL and subject to venue facility fees.
For more information contact the Box Office at (305) 284-8872 or boxoffice@ftfshows.com