Memorial Day Weekend at Novotel Miami Brickell
Saturday, 05/27/2023-, 12:00 pm-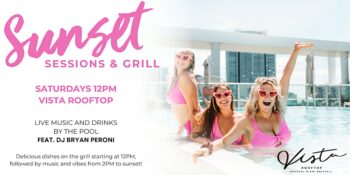 Novotel Miami Brickell
1500 Southwest 1st Avenue,
Miami, Florida, 33129
Eventbrite
Cost: 50
Join us for a memorable Memorial Day celebration at Novotel Miami Brickell! We invite you to stay clear of the bustling South Beach and instead, experience the vibrant atmosphere of Brickell, Miami.
Kickstart your holiday weekend with Novotel's Saturday Skyline Yoga and Sunset Sessions at Vista Rooftop. You'll enjoy a rejuvenating yoga session amidst the breathtaking views of the city and Biscayne Bay led by skilled instructors from Skanda Yoga Studio. These classes are suitable for beginners and offer moments of tranquility and self-care.
Saturday Sunset Sessions will bring delectable dishes grilled to perfection. Starting at 12 PM, you can relish a variety of mouthwatering culinary delights. The atmosphere will be enlivened by the music and vibes of DJ Bryan Peroni, who will take the stage from 2 PM until sunset. The rooftop venue provides the perfect setting for locals and hotel guests to mingle and enjoy the dynamic ambiance, whether you prefer a laid-back or high-energy atmosphere.
As the sun gracefully slips behind Biscayne Bay, drink specials and tantalizing bites will keep you refreshed and satisfied.
Escape to a sanctuary in Brickell, where you can partake in invigorating yoga, indulge in delightful cuisine, and immerse yourself in the vibrant atmosphere of Sunset Sessions at Vista Rooftop Bar.