The Education Fund's For the Love of Art presented by Ocean Bank
Monday, 05/22/2023-, 06:00 pm-08:30 pm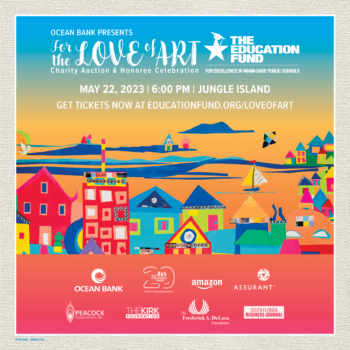 Jungle Island
1111 Parrot Island Trail,
Miami, Florida, 33132
Website
Cost: $150
The Education Fund's "For the Love of Art" presented by Ocean Bank is a charity auction and honoree celebration. This annual event that highlights the essential role of the visual arts in stimulating creativity and academic success for children.
Enjoy live music, an open bar, an epicurean feast, and bid on fabulous luxury items and one-of-a-kind art created by children and art teachers. All proceeds benefit arts education and The Education Fund Ocean Bank Center for Educational Materials.
Please join us as we honor 16 community leaders who have graduated from our public schools and have achieved great success. See what a public school education can do for you!