Free Cone Day at Gulfstream Park Village
Wednesday, 05/17/2023-, 05:00 pm-08:00 pm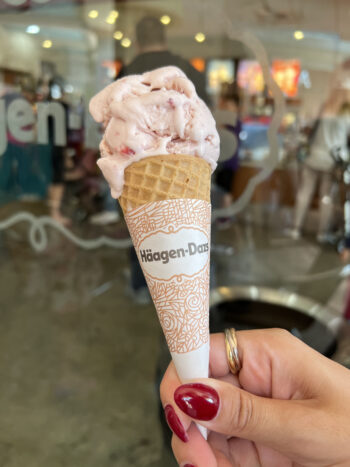 Gulfstream Park Village
901 South Federal Highway,
Hallandale Beach, Florida, 33009
Website
Cost: Free
Calling all ice cream lovers! Free Cone Day is back only at Gulfstream Park Village. The event will take place on Wednesday, May 17 at Häagen-Dazs. From 5 to 8 p.m., guests are invited to enjoy one free mini cone or cup with the ice cream flavor of their choice. Additionally, Gulfstream Park Village Center will be transforming into a family friendly village carnaval with free entertainment featuring an interactive DJ, carnaval masks for the first 1,000 kids, unicyclists, stilt walkers and an aerialist.
In past events, Häagen-Dazs at Gulfstream Park Village has served over 4,225 scoops and was the number one store in the country to participate in Free Cone Day. This year, the Gulfstream Park shop is the only store in the country to offer this exciting promotion and invites guests to enjoy summer's upcoming arrival with a sweet and refreshing treat.
To RSVP for Free Cone Day and be entered to win a $200 Haagen-Dazs Ice Cream Party, please visit https://gulfstreampark.com/promotion/free-cone-day-at-haagen-dazs/.
When:
Wednesday, May 17, 5 to 8 p.m.
Where:
Gulfstream Park Village Center
901 S. Federal Hwy.
Hallandale Beach, FL 33009
Cost:
Free while supplies last.
How:
For more information about Free Cone Day, please visit https://gulfstreampark.com/promotion/free-cone-day-at-haagen-dazs/.
About Gulfstream Park
Gulfstream Park is South Florida's premier entertainment, dining and restaurant destination, located between Miami and Fort Lauderdale, anchored by the legendary Gulfstream Park racetrack. Gulfstream Park not only offers world-class Thoroughbred horse racing but is also home to a casino and family-friendly venues including over 15 restaurants, outdoor cafes, art galleries, fashion retailers, state-of-the-art bowling alley, and a renowned selection of signature home stores. Gulfstream Park, voted a 2020 Top Travelers' Choice Winner by TripAdvisor, is located at 901 South Federal Highway in Hallandale Beach, Florida, just two miles east of I-95. Valet service and complimentary self-parking are available. Gulfstream Park is open seven days a week. For hours, schedules, upcoming events and additional information, visit www.gulfstreampark.com or call 954-454-7000.