Celebrate Cinco de Mayo at Cantina Catrina With 3-Day Festival Weekend!
Friday, 05/05/2023-05/07/2023, 11:00 am-11:00 pm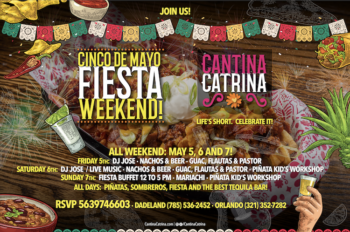 Cantina Catrina
7535 N Kendall Dr,
Miami, Florida, 33156
RSVP / Register
Cost:
Life's short. Celebrate it! This Cinco de Mayo, Mexican Restaurant Cantina Catrina is celebrating patriotic victory all weekend long. Located inside the Dadeland Mall, the three-day fiesta will feature food specials, live entertainment, piñatas, sombreros and the best tequila bar. Check out a breakdown of the fiesta below:
Friday, May 5: DJ Jose; nachos and beer; guac, flautas and pastor
Saturday, May 6: DJ Jose and live music; nachos and beer; guac, flautas and pastor; piñata kids' workshop
Sunday, May 7: Fiesta buffet from noon to 5 p.m.; mariachi; piñata kids' workshop
The standard menu will be available Friday and Saturday until 6 p.m. when the food specials start. On Sunday, enjoy brunch with a fiesta buffet, priced $38 per person, with endless Mexican fan-favorites to get you in the festive mood before a live mariachi band kicks off the tunes in the afternoon. Be sure to RSVP now by calling ahead to secure a spot!