Ocean Drive 30th Anniversary Celebration
Thursday, 03/23/2023-, 08:00 pm-11:00 pm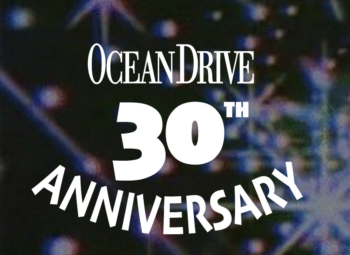 Loews Miami Beach
1601 Collins Ave,
Miami Beach, Florida, 33139
Website
Cost:
Thirty years ago, Ocean Drive magazine was born – which redefined a media genre and ignited the resurrection of South Beach as the global hot spot we know today. Having launched in 1993, the glossy made its grand entrance onto the scene during the roaring '90s of Miami nightlife and subsequently became the "Bible of South Beach," encapsulating the hottest, trendiest who's who and what's what of South Beach, both in the magazine and at its iconic events.
This year marks the 30th anniversary of Ocean Drive, and in true Miami style, the publication will be hosting a celebratory bash at the Loews Miami Beach Hotel on Thursday, March 23rd, from 8:00PM-11:00PM. Cover stars Tyson Beckford and Jasmine Sanders, along with legends from Miami nightlife, will come together for a special VIP event that pays homage to all of the movers and shakers of the '90s who helped shape the city's evolution. Syncing with the thrilling energy of Miami Music Week, attendees can look forward to live DJ sets and a curated performance line-up starring DJ Irie, Victor Calderone, Miami drag legend, Adora, and Haitian-born rap sensation and multi-instrumentalist, Wyclef Jean.
Celebrating its 25th anniversary this December, Loews Miami Beach Hotel has long been recognized as the catalyst that made the South Beach hotel scene what it is today. Over the years, the oceanfront resort and Ocean Drive have collaborated on standout events, making it the ideal location for the magazine's 30th anniversary festivities.
While toasting to the past and welcoming the present, Ocean Drive acknowledges some of Miami Beach's pioneers who helped build the foundation of our Magic City: Alan Roth, Ingrid Casares, Chris Paciello, Nicola Siervo, Rony Seikaly, Marita Stavrou, Tommy Pooch, Tara Solomon, Bill Spector, Conrad Gomez, Navin Chatani, and Esteban Cortazar.
This event is invite-only.