Creole Food Festival Miami
Saturday, 03/18/2023-, 03:00 pm-08:00 pm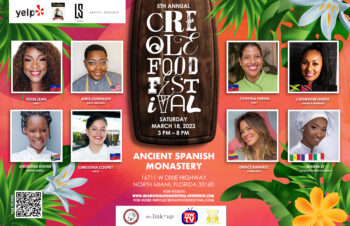 Ancient Spansih Monastery
16711 West Dixie Highway,
North Miami Beach, Florida, 33160
Website
Cost:
The flavors are sizzling with cultural diversity for the annual Creole Food Festival. This national festival makes a stop in Miami and will showcase an all star lineup of black and brown female chefs, cuisines and beverages from the Caribbean, Africa, Latin America, American South and South America on Saturday, March 18, 2023 at the Ancient Spanish Monastery, 16711 West Dixie Highway, North Miami Beach, FL from 3pm to 8pm.
"The term Creole is a person of mixed European and Black descent, especially in the Caribbean. The Creole Food Festival was created as a platform to highlight the talents of black and brown chefs. With the culinary industry being predominantly male and white, we were intentional about showcasing female chefs of color especially since we are celebrating International Women's Month. According to the U.S. Bureau of Labor Statistics, only 22.8% of chefs and head cooks in 2021 were women. We want to showcase the multicultural salad that Miami has to offer while celebrating what unites us through food," says co-founder Fabrice Armand.
Founded in 2018 in New York City by Fabrice Armand and Elkair Balla, the Creole Food Festival uses culinary excellence as a unifying thread that will include new inspirations from renowned chefs:
Christina Coupet (Haiti)- Food Network Chopped Grand Champion 21
Grace Ramirez (Venezuela)-World Wide Ambassador Zacapa Rum
Airis Johnson (New Orleans)-Food Network Chopped Champion
Cynthia Verna aka Chef Thia (Haiti)-Winner of Embassy Chef Challenge
Snegugu Kkiine (South Africa)-Restaurant Winner GagasiShero 22
Amina Ly (West-Africa, French, Italian)-Contestant Food Network Alex vs America
Catherine Hinds (Jamaica, Trinidad) Contestant Cutthroat
Rose Jean (Haiti) Owner of Rose the Chef
Creole Food Festival will also feature immersive activations of food sampling, exotic beverages and food demos with live performances by latin artists Tokyo Dro, Yazzi & Abdiflow and DJ Frankie Mix Alot with local chef village and entertainment for the entire family to enjoy. Sponsors include Kreyol Essence, The Ancient Spanish Monastery Foundation, LS Creme, Zacapa Rum, Gosling Rum, Yave Tequila and Yelp.