Community Reinvestment Alliance of Florida Summit23
Thursday, 03/02/2023-, 08:00 am-05:00 pm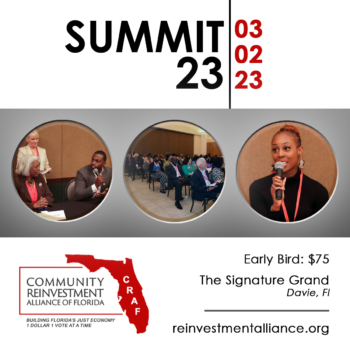 Signature Grand
6900 W State Road 84,
Davie, Florida, 33317
Website
Cost: $75-$100
Join the Community Reinvestment Alliance of Florida onThursday, March 2nd, as they bring you experts and industry leaders on a wide range of topics related to community investments, CRA programs, housing, and engaging communities. Get ready to ask questions, make new contacts, and learn how you can work towards solving local community issues.
Tickets are now on sale, and planning is officially underway for Summit23!
Confirmed sessions include:
How To Engage Residents on Banking & Why Its Needed
Building Community Charrettes
Engaging Young Community Developers
Sustainability of Environmental Leadership
We can't wait to connect, network and see you all again!
Schedule of Events
Visit online.
Tickets:
$75 Early Bird Tickets (ends Feb 5th)
$100 General Tickets
Breakfast and lunch included. Free onsite parking.

** There will be two workshops in the morning, and two in the afternoon. Participants will be able to move freely from room to room. Check back for an updated list divided by morning and afternoon sessions.