Chinese New Year Market hosted by Smorgasburg Miami in Collaboration with Wok Star Eleanor Hoh
Saturday, 01/21/2023-01/22/2023, 12:00 pm-09:00 pm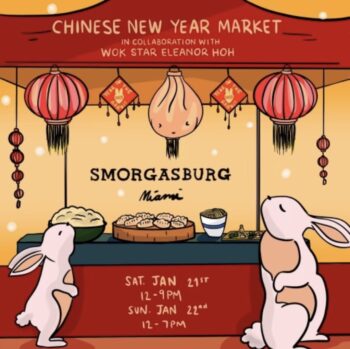 Smorgasburg
2600 NW 2 AVE,
Miami, Florida, 33127
Website
Cost: Free
Jumpstart Year of the Rabbit at Smorgasburg Miami's inaugural Chinese New Year Celebrations in partnership with local food personality, Wok Star Eleanor Hoh, Saturday, January 21, 12-9pm and Sunday, January 22, 12-7pm at 2600 NW 2nd Avenue, Wynwood Miami, FL, 33127.
The weekend celebrations will honor Chinese culture and art with live performances and activities featuring a Lion Dance Troupe, a pop music Taiwanese violinist, Calligraphy and art classes for kids and adults by Ms Dans Chinese, and roaming interactive Chinese horoscope actors. Smorgasburg Miami will be transformed into a Chinese outdoor street food Market and decorated with red lanterns, paper umbrellas and origami cranes giving a Chinese New Year festive look.
On the culinary side, Smorgasburg Miami's vendors and guest vendor will showcase special dishes highlighting different Asian cuisines that will only be available during this event!
Hoh's tips are to wear lots of red, gold and rabbit themed clothing and comfy shoes as it's a gravel surface at Smorgasburg Miami.
See you there! Kung Hei Fat Choy
Smorgasburg Vendor Specials for Chinese New Year Market:
Tio Paella • Cantonese Fried Rice
D'Abruzzo • XinJiang Skewers 新疆烤串
Tempest Tea • Dragon Fruit Green Tea Lemonade
D' Pura Cepa • Pionono Egg Rolls
Mao's Bao • JiaoZi (Boiled Dumplings)
Elote Lovers • Elote en Vaso, topped with Teriyaki Chicken
The Wrapper • Spring Roll Wrap
Raclette Street • Veggie stir fry topped with Raclette
The Dutch Fry • Asian street fries with pork char siu
Los Felix • Blood Orange Sake Margarita
Wet Burger • Sweet and Sour Sauce Wet burger
Moonchild Cafe • Sailor Mooncakes
Guest Vendor Special Dish:
Kome Oyster & Sushi Bar • Chicken Tostadas with Mango Salsa