Rum and Coke 1 Year Anniversary Party
Sunday, 01/22/2023-, 07:00 pm-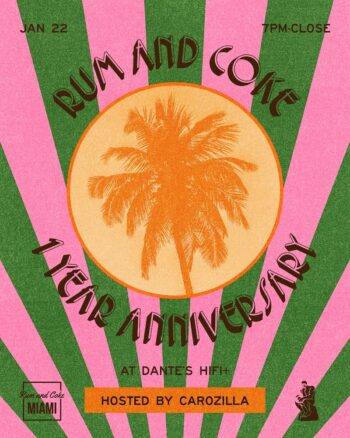 Dante's Hi Fi
519 Northwest 26th Street,
Miami, Florida, 33127
Eventbrite
Cost: Free
Rum & Coke, the Miami-based Afro-Caribbean Latin dance party and DJ collective, will celebrate one year of their residency at Dante's HiFi.
Hosted by fellow Dante's resident and Technique Records associate CaroZilla, the special edition of Rum & Coke will take place Sunday, January 22, at Dante's HiFi in Wynwood, 519 NW 26th St, Miami, running from 7 pm to close.
Having existed in various configurations for five years, Rum and Coke's mission to raise awareness of and pay tribute to the classic, obscure, and forgotten sounds of Latin / Afro-Caribbean popular music has taken them all over the Americas, playing Mexico's Noche Negra party in 2019 and Santo Domingo, Dominican Republic in 2022. With their residency at Miami's premier listening bar, they've been able to play regularly in their hometown for the first time since the pandemic.