YMCA of South Florida's Veterans Day Breakfast
Friday, 11/11/2022-, 09:00 am-10:30 am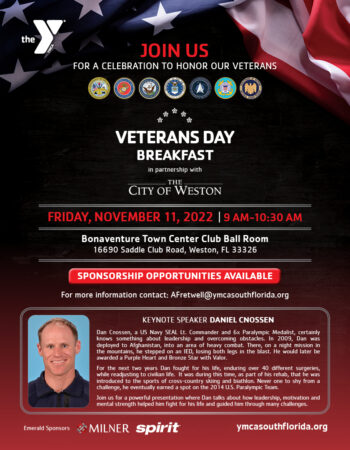 Bonaventure Town Center Ballroom
16690 Saddle Club Road,
Weston, Florida, 33326
RSVP / Register
Cost:
The annual breakfast, in partnership with the City of Weston, features U.S. Navy SEAL Lt. Commander, Harvard University graduate and six-time Paralympic Medalist Dan Cnossen as the keynote speaker. During his powerful presentation, Cnossen will inspire attendees with stories of how leadership, motivation and mental strength helped him fight for his life and guided him through many challenges after losing his legs during a military mission in Afghanistan over a decade ago.
According to data from the Florida Department of Veterans' Affairs, out of the 19.1 million total veterans in the U.S., almost 10% or 1.4 million live in Florida, making it the third largest veteran population in the nation. It is because of this, that the special benefits offered by the Y to the military and their families living in South Florida are more important than ever. Through the YMCA's military membership, families can spend quality time together, meet other military families and enjoy the Y's membership offerings in a supportive environment. Military benefits include opportunities for paid employment and as volunteers, facility usage for training purposes, health and wellness seminars and cross promotions of shared resources.
This year's Veterans Day Breakfast is sponsored by Milner; Spirit Airlines; Bonaventure Town Center Club; Bank of America; Downtown Photo Live; Memorial Healthcare System; TD Bank; America's Office Source, Inc.; Broward Health; Brown & Brown Insurance; Cole, Scott & Kissane, P.A.; The Dylan Schopp Sunshine Foundation; Healthy Partners; and RumbergerKirk.
Sponsorship opportunities are still available. Contact Aimee Fretwell at AFretwell@YMCASouthFlorida.org or 954-334-9622, ext. 1045.