Crab Du Jour Grand Opening Ceremony at Deerwood Town Center in Miami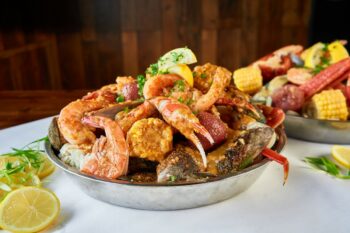 Wednesday, 06/15/2022, 11:30 am – 12:00 pm
Crab Du Jour
12075 SW 152nd St
Miami, Florida 33177
Contact Phone Number (954) 714-7893
WebsiteEntry Fee: Free
Crab Du Jour, a popular Cajun-inspired seafood restaurant known for its ultimate seafood boils, will officially celebrate the grand opening of its fourth South Florida location at Deerwood Town Center (12075 SW 152nd Street) in Miami, Florida.
Known for its ultimate seafood boil, Crab Du Jour, which translates roughly to "crab of the day," offers a unique dining experience featuring freshly prepared and made-to-order Cajun-inspired seafood boils and a variety of fresh high quality seafood selections, including clams, mussels, shrimp, crawfish, crab legs, lobster and more. Customers select their seafood, choose from an array of house-blended sauces like Cajun, garlic butter, Old Bay, lemon pepper, or 'Du Jour' which incorporates all of the options, customize their desired spice level, and add side items like corn, potatoes, and sausage. Truly experiential, each boil is served in a bag, which is shaken and presented tableside in front of guests.
In addition to the boils, the menu also includes Southern Cajun specialties and non-seafood dishes, from bourbon steak, chicken wings and hush puppies to Po'Boys, burgers, fried pickles, cheesesteak egg rolls and more, as well as a full-service bar.
Crab Du Jour is open Sunday through Thursday, from 11:30 a.m. to 11 p.m., and on Friday and Saturday, from 11:30 a.m. to midnight. For more information, visit crabdujour152.com.