CityPlace Doral Announces the Second Annual "Fashion Art Design" and Two Pop-Up Exhibitions in Partnership with Doral Contemporary Art Museum (DORCAM)
Thursday, 05/12/2022-, 07:00 pm-10:00 pm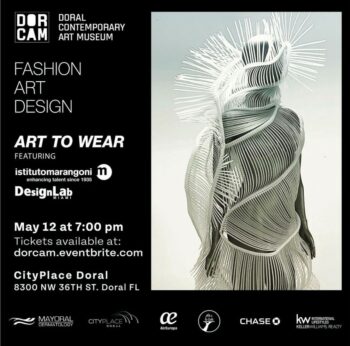 CityPlace Doral
8300 NW 36 Street,
Doral, Florida, 33166
Website
Cost: 20 – 75
Requiring social distancing? NO
Requiring masks? OPTIONAL
Providing hand sanitizer? NO
CityPlace Doral has partnered with Doral Contemporary Art Museum (DORCAM) once again to offer guests and the local community arts and cultural initiatives at the center throughout spring and summer. To kick off the 2022 programming, CityPlace Doral will present the Second Annual "Fashion Art Design" on Thursday, May 12. The event will feature "art to wear" runway looks and unique fashion sculptural pieces and headdresses that are focused on sustainability and designed by students of Istituto Marangoni and DesignLab Miami. The runway show will consist of a show of lights, music, and a parade of sculptural outfits made of surprising materials and shapes on the roundabout at the center of CityPlace Doral. "Fashion Art Design" will kick off the Doral Fashion Art Design Week event series, taking place in Doral yearly.
DORCAM is committed to education in the arts and supporting up-and-coming designers. DesignLab designers Octavio Aguilar, Celia Ledón and Angie Cohen will participate in the runway show along with student-designers who were mentored by Ledón and Cohen.
During the show, Antonio Drija, author and former Cirque Du Soleil performer, will recap his role as artistic director of the show. DORCAM will stream digital fashion designs by Karina Ochoa de Baker, a 3D apparel designer and the founder of Project Infinito, who was featured in VOGUE Scandinavia for her incredible metaverse fashion shows.
In addition to "Fashion Art Design," the spring/summer 2022 programming will include two pop-up exhibitions.
"Fashion Power" (Suite 123) | May 12 – July 12, 2022, Open Daily, Times Vary
Fashion Power is a group exhibition that includes works by Barbara Hulanicki, Octavio Aguilar, Lisu Vega and Celia Ledón. Legendary clothing designer Hulanicki is the founder of Biba Shop in London, which became a popular hangout for film stars and rock musicians, including Mick Jagger, Freddy Mercury, David Bowie, among others. Aguilar, also known as DopeTavio, made it to the top ten in Project Runway Season 19. Vega is trained as an experimental graphic designer and has a multidisciplinary approach to art, as her work oscillates between sculpture, installation, and fashion. Ledón is an industrial designer. Her creations, not meant to be worn, straddle the boundaries between the fashion world and sculpture. The variety of materials used for the construction of her clothes make for truly theatrical pieces.
"Urban Art" (Suite 150) | May 12 – July 12, 2022, Open Daily, Times Vary
Urban Art is presented in collaboration with David Rosen Galleries and Naif International Gallery. Both galleries have years of experience in the world of art and this exhibition promises to be an exciting addition to the festivities at CityPlace Doral. Featured artists include Marcos Varonese, Jordi Mollá, Domingo Zapata, Angelina Roma, Penny Boyd, Sebastián Castella, and Giuseppe Ferlito.