Chopin for All: Young Local Pianists
Sunday, 04/24/2022-, 03:00 pm-04:30 pm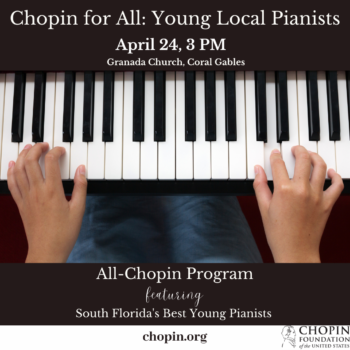 Granada Church
950 University Drive,
Coral Gables, Florida, 33134
Website
Cost: FREE
Requiring social distancing? NO REPLY
Requiring masks? OPTIONAL
Providing hand sanitizer? YES
South Florida's best piano students will perform the music of Frédéric Chopin as part of the monthly Chopin for All free concert series. The young pianists are recommended by their private piano teachers and then, along with scores of other young pianists, audition before a panel of professional artists/jurors to obtain a coveted spot on the recital program. The finest piano students from S. Florida, all under the age of 18, were selected to perform at the Young Pianist Concert.
ALL CHOPIN PROGRAM
Israel Garcia / Waltz in A minor, Opus posth., No. 19
Lana Tan / Nocturne in E Flat Major, Op. 9, No. 2
Andrew Gedde / Fantaisie-Impromptu Op. 66
Amelia Weimar / Nocturne in C-sharp minor, Op. Posth
Joshua Safont / Impromptu in A flat Major, Op. 29
Michael Drew / Nocturne in G minor, Op. 15, No. 3
David Espinosa / Polonaise in G minor
Lili Dagan / Etude Op. 25, No. 2 in F minor
Jin Yang Li / Ballade No. 1 in G minor
Christopher Rocha / Waltz in B minor, Op. 69, No. 2
Nicolas Lama / Nocturne in C-sharp minor, No. 20
Jocelyn De Young / Fantaisie-Impromptu Op. 66
Luna Zanna / Etude Op. 10, No. 1 in C Major
Luke Yang / Ballade No. 2, Op. 38 in F Major
Tiger Ren / Nocturne in F minor Op. 55, No. 1
Lilli Theisen / Scherzo No. 2, Op. 31
Thank you for using Soul Of Miami!