Eat, Sip, and Shop Local at Pop up & Shop up X Lincoln Eatery
Sunday, 03/27/2022-, 01:00 pm-05:00 pm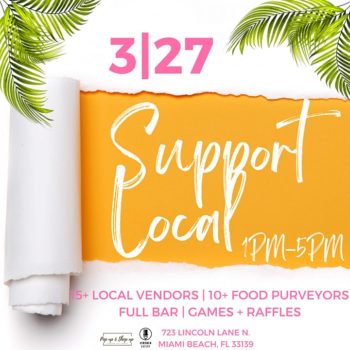 The Lincoln Eatery
723 Lincoln Lane,
North Miami Beach, Florida, 33139
RSVP / Register
Cost: Free
Requiring social distancing? NO
Requiring masks? OPTIONAL
Providing hand sanitizer? YES
The Lincoln Eatery on Miami Beach is hosting its monthly pop up market with Pop up & Shop up on Sunday, March 27th! The event will take place from 1 p.m. to 5 p.m., and will feature at least 15 different local women and Black-owned businesses, each selling assorted local Miami-made products that vary from clothes and jewelry to crystals and skincare.
Pop up & Shop up continues the Lincoln Eatery's mission of bringing local artisans together, creating a sense of community in Miami Beach by highlighting minority-owned businesses and locally-made products. Past events have involved vendors with trendy products such as divine-smelling candles, hand-made bikinis, and dainty jewelry. Bring friends along to shop, graze, sip, or even just snap an Instagram-worthy photo while supporting local businesses and basking in the pink and green covered aesthetic atmosphere!
Guests will also be able to try food from numerous assorted food vendors at the Lincoln Eatery food hall or purchase refreshments and cocktails from the full bar. Some of the available eateries include an Italian restaurant, PESTO; French bakery, Café les Fleurs; and Peruvian Ceviche bar, Cilantro 27. Activities will include a pool table, dominoes and beer pong; there is something for everyone!
Anyone can attend this free event and RSVPs via Eventbrite are suggested.
Location: 723 Lincoln Lane, North Miami Beach, FL 33139
Link: https://www.eventbrite.com/e/pop-up-shop-up-x-lincoln-eatery-tickets-289688926377