CARABOOM The Greatest Carwashow on Earth
Thursday, 03/31/2022-04/10/2022, 07:00 pm-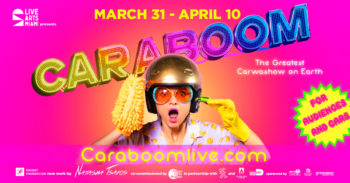 MDC Wolfson Campus, Lot 1
233 NE 5th St,
Miami, Florida, 33130
Website
Cost: $35-$115
Requiring social distancing? NO
Requiring masks? OPTIONAL
Providing hand sanitizer? NO
CARABOOM is a genre-defying spectacle of silliness and physical poetry, following the trials and triumphs of the Caraboom Family. Foam cannons, bubble machines and human water fountains immerse participants and passengers in a splash filled adventure while the Family tries its very best to keep it together! There are honking concertos, microfiber dancing, and catharsis for everybody. But a carwash, you ask? You'll have to come and see.
CARABOOM tells the story of: A loopy family opens a car wash in a pandemic. They are clueless, genius and a bit idiotic, tasked to erase the past and reframe it. To handle the flow coming, they conform to kooky timing, ruled by whistles whistling, who control their states of being. They clean or pretend to, entertain to distract you, while family impromptus happen all around you. They daydream plots, burst into numbers, and live in a world, a whole lot, like ours. They planned an intermission. The intermission is probably, The Show.
Great for all ages, CARABOOM is a sensational playscape for togethering and catharsis.
Come delight, cheer and boogie with the Caraboom Family!
Experience the show from our BOOM ZONES, SPLASH ZONE or within the comfort of YOUR CAR.
%300 HYGIENIC + FUN GUARANTEED