Reflections Of A Woman Vision Board Conference
Thursday, 02/24/2022-02/27/2022, 05:00 pm-12:00 pm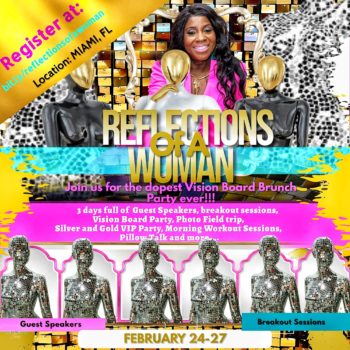 Doubletree by Hilton Miami Airport Convention Center
711 NW 72nd Avenue,
Miami, Florida, 33126
RSVP / Register
Cost: $75 to $300
Requiring social distancing? YES
Requiring masks? OPTIONAL
Providing hand sanitizer? YES
Sometimes looking in the mirror we get discouraged and even disgusted at what we see. Though we pretend everything all good, and we're doing fine and great, inwardly we are over the woman we see looking back at us.
We hate who we've become. We hate what we've allowed. We hate what we've settled for, overall the woman looking at us in the mirror is not the woman we once knew.
Well this February, we are confronting the woman in the mirror (in my Michael Jackson) we are asking her to "change her ways". Yep it is possible to become the woman you were born to be, but 1st you must confront in order to conquer.
You are a winning woman and this year in 2022, you will manifest the woman you were intended to be and I intend to help you get there!
Register for our Reflections Of A Woman Vision Board Brunch Conference NOW. Seating is limited and we want to see you there!
Thank you for using Soul Of Miami!