Island City Stage Presents Andrew Kramer's "Armature," A Political Mystery Thriller
Thursday, 01/27/2022-02/27/2022, 08:00 pm-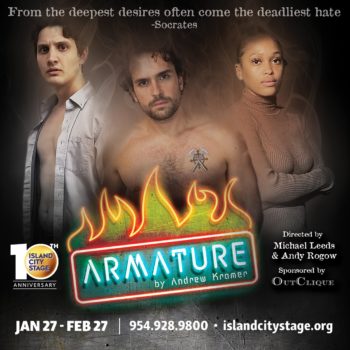 Island City Stage
2304 N. Dixie Highway,
Wilton Manors, Florida, 33305
Website
Cost: $35; $150 Flexpass; Groups discounts.
Requiring social distancing? NO REPLY
Requiring masks? NO REPLY
Providing hand sanitizer? NO REPLY
Racism, homophobia and self-hatred seethe through Island City Stage's world premiere of Andrew Kramer's political mystery thriller Armature running January 27 – February 27, 2022. Armature is part of the award-winning theater company's 10th Anniversary 2021-22 South Florida Season.
Directed by Michael Leeds and Andy Rogow, Armature is a searing story of love, lust and betrayal. A "burning" is the undercurrent of this gripping drama of which the Armature Bar is at the epicenter. The play connects the stories of two sexy, troubled gay men and a Black family whose matriarch is running for political office.
Candidate Blythe Ames prepares – with a voice as smooth and strong as a song – for the upcoming governor's election. Her husband Denson should be happier for her political success. Her daughter Monica should stop dyeing her hair. Across town, pop-culture blogger Evan meets sexy stranger Shod at the dark and sordid Armature Bar where Mama serves the drinks – if he's able to avoid the reporters. The lives of these very different people collide as a roaring fire erupts with biblical wrath and passion, devouring everything in its path.
Armature features an ensemble cast including Karen Stephens as Blythe, Matthew Salas as Evan, Michael Ford as Shod, and Yesenia Ozuna as Monica. Joining them is Kent Chambers Wilson (Mama) and Keith Wade (Denson).
Armature is sponsored by OutClique magazine and supported by Our Fund, the SHS Foundation, the Broward County Cultural Council and Florida Department of State Division of Arts & Culture.
Island City Stage's 10th anniversary 2021-22 season kicked off with The Twentieth Century Way by Tom Jacobson in October. Upcoming productions include Suddenly Last Summer by Tennessee Williams from March 17 – April 17, 2022; The Mystery of Irma Vep by Charles Ludlam from June 9 – July 10, 2022 and One In Two by Donja R. Love from August 4 – September 4, 2022.
Island City Stage is located at 2304 N. Dixie Highway in Wilton Manors. Tickets start at $35 per show. Season subscribers can save with a $150 Flexpass for all five productions (a $25 savings off individually priced tickets plus no processing fees) and receive $5 off of additional tickets purchased. Other discounts are available for groups.
For more information and tickets, please visit islandcitystage.org, call (954) 928-9800 or email md@islandcitystage.org. Follow Island City Stage on Facebook at facebook.com/IslandCityStageFL and on Instagram at @islandcitystage1.