Boys & Girls Clubs of Miami-Dade to Host its Inspire + Invest + Impact Alumni Hall of Fame Induction Ceremony Presented by Carmen Rebozo Foundation
Thursday, 12/09/2021-, 06:00 pm-09:00 pm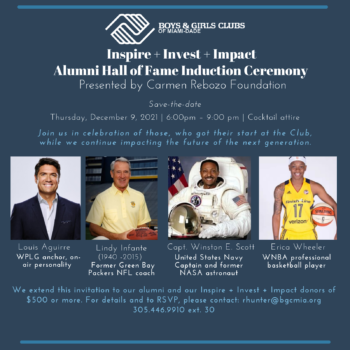 The Rooftop on Ponce
2990 Ponce de Leon Blvd.,
Coral Gables, Florida, 33134
Website
Cost: Free
Requiring social distancing? YES
Requiring masks? OPTIONAL
Providing hand sanitizer? NO
What/Who:
To celebrate Boys & Girls Clubs of Miami-Dade's alumni and the positive impact they have made and continue to make in the Miami-Dade community and beyond, the organization will host its Inspire + Invest + Impact Alumni Hall of Fame Induction Ceremony and reception at The Rooftop on Ponce on Thursday, Dec. 9. Alumni, inductees and their families, as well as Inspire + Invest + Impact Campaign sponsors of $500 and higher are invited to this special reception.
The 2021 Alumni Hall of Fame inductees are:
• Louis Aguirre, WPLG-ABC On-Air Personality
• Lindy Infante, Former NFL Head Coach
• Capt. Winston E. Scott, United States Navy Captain and former NASA Astronaut
• Erica Wheeler, WNBA Player
The talents, dedication and skills of Boys & Girls Clubs of Miami-Dade alumni have affected the South Florida community and beyond in the areas of sports, entertainment, business, medicine, politics, justice, education, technology and more. Although the Clubs' members have all embarked on their own special journeys, they all experienced the life-changing programs facilitated by the caring and compassionate staff at Boys & Girls Clubs of Miami-Dade.
Since first opening its doors in 1946, Boys & Girls Clubs of Miami-Dade has provided the diverse youth of South Florida with a supportive environment to learn, thrive and accomplish their dreams.
Boys & Girls Clubs of Miami-Dade would like to thank its generous sponsors for making it possible and acknowledge the following: The Inspire + Invest + Impact Alumni Hall of Fame Induction Ceremony is Presented by Carmen Rebozo Foundation. The Investor Sponsor is Bermont Gold Wealth Advisory of Raymond James. DRRT, Lisa and Victor Mendelson, Ocean Bank, Somos Group, Allison and Andy Stuart and USI Insurance are the Illuminator Sponsors. The Beacon Sponsors are Joan and James Bernhardt, Eller-ITO Stevedoring Company, LLC, Margaret and Clint Gulley, JP Morgan Chase Foundation, Ana and Raul Marmol, and Allison and Andy Stuart. Thomas Bezold, Maria and Wilfredo Diaz, Grove Bank & Trust, Anthony Lopez, Rae and Barry Stein, Tasco Plumbing & Mechanical Service, LLC, Eris Thomas and Truist are the Aspire Sponsors. The Inspiration Sponsors are Linda and Willie Ho, Gustavo Lopez and Robert Parks. The Achiever Sponsors are Jane and Alexandre Barrellier, BizGuru, Pamela and Erasmo Guilarte, Michael Landa, Esther Nuhfer and Sandra Sueiras. Lument is the Hospitality Sponsor.
When:
Thursday, Dec. 9, 2021
6 – 9 p.m.
Where:
The Rooftop on Ponce
2990 Ponce de Leon Blvd.
Coral Gables, FL 33134
Parking will be validated.
How:
The event is open to all Boys & Girls Clubs of Miami-Dade alumni and former inductees. All Boys & Girls Clubs of Miami-Dade alumni are encouraged to register as alumnus at bgcmia.org in order to receive important information about the organization.
Inspire + Invest + Impact Sponsorship opportunities are available. For more information or to RSVP, please contact Rhia Hunter at (305) 446-9910 ext. 30, or via email at rhunter@bgcmia.org.
About Boys & Girls Clubs of Miami-Dade
Boys & Girls Clubs of Miami-Dade has been serving youth in the community since 1946. What once was a single building and site for boys has grown to five Clubs serving thousands of boys and girls year-round, providing programs in the areas of character and leadership development, educational enhancement, career preparation, health and life skills, cultural arts and sports, fitness and recreation. Club staffing, initiatives, and programs are designed to inspire and enable area youth and provide them with the resources to succeed and share in the American Dream. For more information, please visit www.bgcmia.org, www.facebook.com/BoysGirlsClubsMiamiDade, www.instagram.com/bgcmiamidade, www.twitter.com/BGCMia, www.youtube.com/user/BGCMiamiDade, or call 305.446.9910.