Christmas in South Beach – A Gala Concert
Saturday, 12/18/2021-, 07:00 pm-08:00 pm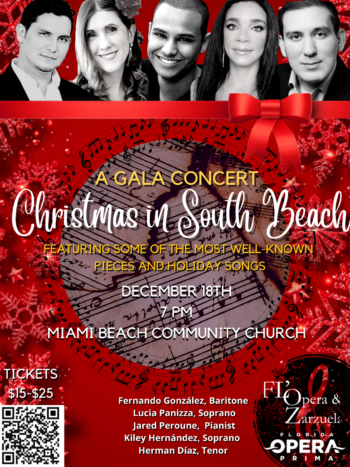 Miami Beach Community Church
1620 Drexel Ave,
Miami Beach, Florida, 33139
Eventbrite
Cost: 15 – 25
Requiring social distancing? NO
Requiring masks? OPTIONAL
Providing hand sanitizer? YES
Come join us celebrate the most wonderful time of the year in Lincoln Road with favorite sacred pieces and traditional Christmas songs.
Featuring Fernando Gonzalez, baritone from The Latin Divos, Herman Diaz, tenor, Kiley Hernandez, soprano, Lucia Panizza, soprano, and pianist Jared Peroune.
Tickets: $15 Seniors, Students, and Children
$25 General Admission
25% OFF with Promo Code THANKYOU25, valid until 11/26/2021
Limited seating. Register today: Tickets: https://www.eventbrite.com/e/196018956977
This concert is presented by Florida L'Opera & Zarzuela and Florida Opera Prima.
Both organizations strive to enrich the cultural landscape within their community through performance, research, and education of the vast lyric repertoire.
Inspiring audiences of all ages, they contribute to the preservation of the classical music heritage. Visit https://floperazarzuela.org and https://floridaoperaprima.wordpress.com for further information.