Art Week Market by Pop Up & Shop Up at The Gabriel Miami
Sunday, 12/05/2021-, 11:00 am-03:00 pm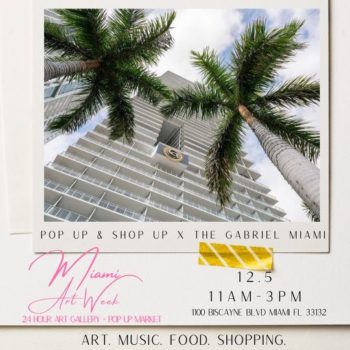 The Gabriel Miami
1100 Biscayne Boulevard,
Miami, Florida, 33132
RSVP / Register
Cost: Free
Requiring social distancing? NO REPLY
Requiring masks? NO REPLY
Providing hand sanitizer? NO REPLY
Pop Up & Shop Up, a local artisan market, will bring the Miami community together on Sunday, December 5 at The Gabriel Miami.
Pop Up and Shop Up is the product of Stephani Lamoni, who works with local artisans and craftsmen in South Florida, providing a platform to sell their creative items.
The Art Week community market at The Gabriel Miami will highlight minority-owned businesses and showcase locally-made products, including makeup, skincare, haircare, artisan goods, homemade jewelry, works of art, sustainable fashion and more.
RSVP on Eventbrite today!