On The Samara's Wing: Ethnobotanical Negotiations of Cultural Space
Thursday, 10/21/2021-, 06:00 pm-09:00 pm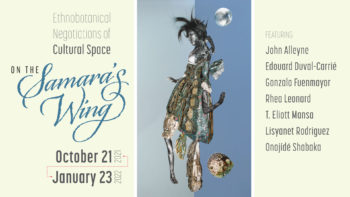 The Frank C. Ortis Art Gallery
601 City Center Way,
Pembroke Pines, Florida, 33025
Website
Cost: Free
Requiring social distancing? NO
Requiring masks? OPTIONAL
Providing hand sanitizer? YES
The City of Pembroke Pines and The Frank C. Ortis Art Gallery are pleased to present On The Samara's Wing: Ethnobotanical Negotiations of Cultural Space, an in-person exhibition centering artists who explore immigration, diaspora, transnational identity, race and belonging through dramatic allegories of landscape, botany and organic materials. From time immemorial, human survival has hinged upon our ability to recognize and navigate the botanical landscape. Cultures, known and unknown, antiquitous and contemporary, withstand the jagged contours of evolution by maintaining a cultivated awareness of plant-life. Plants provide nourishment, healing, shelter and in essence, through oxygen-life itself.
On The Samara's Wing takes flight on Thursday, October 21st at 6 PM. The opening reception will feature an exclusive performance by Haitian singer and guitarist Inez Barlatier at 7 PM.
Complimentary refreshments and hors d'oeuvres will be served at the reception. Admittance to The Frank is free. No appointments or registration required. Mask-wearing at The Frank is strongly encouraged.
Thank you for using Soul Of Miami!