History Fort Lauderdale's "Meet the Author" Zoom Series Featuring Harvey E. Oyer, III
Thursday, 10/14/2021-, 12:00 pm-01:00 pm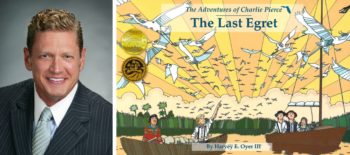 Website
Cost: Free, live interactive Zoom session
History Fort Lauderdale, proud steward of our community's past by making our heritage accessible and engaging to residents and visitors, will feature beloved award-winning children's author, adventurer and historian Harvey E. Oyer, III on the next October 14 noon segment of its "Meet the Author" interactive Zoom series. The free series takes place on the second Thursday of each month. Viewers may register at https://bit.ly/HFLMeetTheAuthorOyer.
Harvey E. Oyer, III is a fifth generation Floridian and is descended from one of the earliest pioneer families in South Florida. He is the great-great grandson of Captain Hannibal Dillingham Pierce and his wife Margretta Moore Pierce, who in 1872 became one of the first non-Native American families to settle in Southeast Florida. Oyer is the great-grandnephew of Charlie Pierce, the subject of his best-selling children's book series, Adventures of Charlie Pierce, which has won numerous awards. Copies of the series are available for purchase at www.theadventuresofcharliepierce.com.
A partner in the law firm of Shutts & Bowen LLP and formerly an adjunct professor of law at the University of Miami School of Law and an adjunct professor at Florida Atlantic University Honors College, Oyer is a fifth generation native Floridian and served for seven years as the chairman of the Historical Society of Palm Beach County. He served as chairman of the Chamber of Commerce of the Palm Beaches and is presently a director of the Business Development Board of Palm Beach County, Good Samaritan Hospital, the Forum Club of the Palm Beaches, and the South Florida Science Center.
Oyer has received numerous awards, including selection into Best Lawyers in America, the Thomas Jefferson Award for Public Service, and the Ellis Island Medal of Honor. In 2010, he was awarded the Judge James R. Knott Historical Contribution Award by the Historical Society of Palm Beach County. In 2009, The Florida Trust for Historic Preservation gave him their Individual Distinguished Service Award and in 2008 the Florida Association of Museums named him Trustee of the Year. He was named one of the 100 Most Influential Floridians by Florida International magazine and one of the 25 Most Powerful People in Palm Beach County by the Palm Beacher magazine. Oyer is a noted writer and lecturer on topics ranging from law, history, and archaeology to international laws regarding antiquities trafficking and cultural property protection. He holds degrees in economics, archaeology, and law, was elected to Phi Beta Kappa, and was a Rotary Foundation Scholar at the Australian National University. Oyer holds a master's degree in archaeology from Cambridge University and worked in various parts of the world as an underwater archaeologist. He is a member of the Explorers Club, has skied to the North Pole, and served as a Captain in the United States Marine Corps.
Oyer joins esteemed writers including New York Times bestselling author Laura Duksta, Cesar A. Becerra, Dr. Joe Knetsch, Y.M. Masson, architect and historic preservation consultant Arthur Jay Marcus, historian John Bailey, plus novelists Kingsley Guy and Donn R. Colee, Jr. as part of History Fort Lauderdale's prestigious "Meet the Author" series, a chance to converse with Florida-based writers, launched in February. Upcoming novelists will be announced.
History Fort Lauderdale is currently open seven days a week, from 10 a.m. – 4 p.m., with docent guided tours, daily, at 1, 2 and 3 p.m. Group walking tours are available upon special request. Admission is $15 for adults; $12 for seniors and $7 for students (through age 22 with a valid student ID). Admission is free for members, military and children ages six and under. Tickets are available online at HistoryFortLauderdaleTickets.
For more information, please call (954) 463-4431 or visit historyfortlauderdale.org. Follow us on Facebook at facebook.com/ftlhistory, on Instagram @ftlhistory, on Twitter @FTLHistory and subscribe on YouTube at youtube.com/user/FTLhistory.