Rakastella 2021
Saturday, 12/04/2021-, 03:00 pm-03:00 am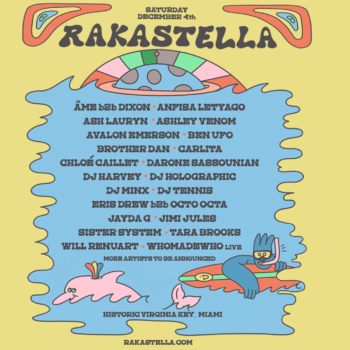 Historic Virginia Key Beach Park
4020 Virginia Beach Drive,
Miami, Florida, 33149
Website
Cost: $60+
Requiring social distancing? NO
Requiring masks? OPTIONAL
Providing hand sanitizer? YES
There's a certain liberation that comes with a leap of faith. Lovers intertwine to become a singular force of nature with energy bound to unknown limits. When harnessed, a labor of love such as Rakastella is born. Pure unadulterated love for radical music selection drew both Innervisions & Life and Death to continue pushing boundaries into this truly exotic experience.
Multiple stages offer moments of continuous discoveries that will awaken the deepest of your senses. We promise not to stop there, we carry on, wanting to spend the rest of our sunsets with you. Seek what sets your soul on fire.
Explore a myriad of immersive sensory experiences within the raw beauty of nature's surroundings. Bringing environmental art to a tropical shaded grove bordering the sea where Rakastella will call home.
2021 ARTIST LINEUP
ÂME b2b DIXON • ANFISA LETYAGO • ASH LAURYN • ASHLEY VENOM • AVALON EMERSON • BEN UFO • BROTHER DAN • CARLITA • CHLOÉ CAILLET • DARONE SASSOUNIAN • DJ HARVEY • DJ HOLOGRAPHIC • DJ MINX • DJ TENNIS • ERIS DREW b2b OCTO OCTA • JAYDA G • JIMI JULES • SISTER SYSTEM • TARA BROOKS • WILL RENUART • WHOMADEWHO live • and more artists to be announced
Innervisions & Life and Death = LOVE
Rakastella promises to be a diverse and eclectic musical affair with romantic and intimate House vibes from start to finish. A brand new, collaborative party concept that will make your heart swell at the historic and picturesque Virginia Key Beach Park, Miami.