Los 3 de la Habana — FREE
Sunday, 09/26/2021-, 04:00 pm-07:00 pm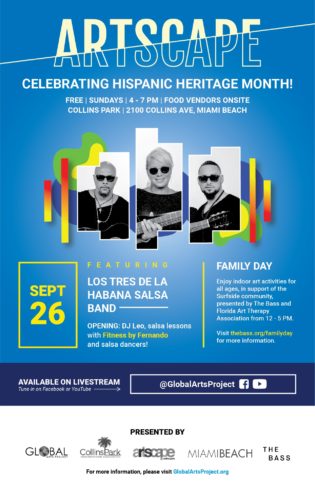 Collins Park
2200 Collins Ave,
Miami Beach, Florida, 33139
Website
Cost: Free
Requiring social distancing? NO REPLY
Requiring masks? NO REPLY
Providing hand sanitizer? NO REPLY
Sunday September 26 from 4-7 PM: Global Arts Project and the Collins Park Neighborhood Association present a FREE concert in beautiful Collins Park, Collins Ave and 22 Street, Miami Beach.
Headed by director Germán Pinelli and featuring the incredible vocal talents of singers Ana Paez and Tirso Luis Paez, Los 3 de la Habana has hit the musical ground running, creating what has often been called "a sexy Cuban music experience born from Latin roots" that's "super-vibrant and full of musical joy." To its credit, the group has recorded six albums and is responsible for ear-catching hits like "No te Pases de la Raya," "La Perdida," "Luchando," "Route 66," "Santa is Coming to Town," "Boy from New York City" and "One Way," but what makes Los 3 de la Habana's sound so very unique is its novel characteristics – something fundamentally different from what is traditionally aired on modern commercial radio.
The popularity of this incredibly talented orchestral act is surpassing even what its own founding members could have imagined, what with the incredibly positive feedback on Los 3 de la Habana's YouTube channel and the sheer amount of download activity via Apple Music and Spotify. Indeed, this is the consummate embodiment of Cuban music fused with the power of Latin roots…and for the relentlessly hard-working members of Los 3 de la Habana, this foray is only just beginning.
3:30 -5 DJ LEO will be spinning for Fitness by Fernando Salsa Lessons!!!! During the show we will feature Professional Salsa Dancers to add to the fun! Food vendors will be onsite! Come and enjoy the Bass Museum Family day! Free admission and childrens activities!!
The show will also be livestreamed on Global Arts Project's Facebook and YouTube pages.