A la Batalla! Timbalive vs N'Taya! Miami Salsa Battle!
Saturday, 07/03/2021-, 06:00 pm-11:00 pm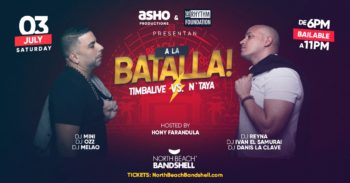 North Beach Bandshell
7275 Collins Avenue,
Miami, Florida, 33141
Website
Cost: $35
Requiring social distancing? YES
Requiring masks? YES
Providing hand sanitizer? YES
A la batalla! Timbalive vs N'Taya!
Juntos por Primera Vez en un Mismo Escenario! El Concierto que Rompe el Verano en el Sur de la Florida!
Miami's Salsa, Timba & Changui Heavyweights Battle! Two popular salsa groups, the city's best dancers, and a competition where everyone wins.
Hosted by Hony Farandula
Musica By: DJ Mini | DJ Ozz | DJ Melao |
DJ Reyna| DJ Ivan El Samurai | DJ Danis la Clave
Sabado 3 de July | 6-11PM
North Beach Bandshell, Miami Beach
Presentando por Asho Productions & Rhythm Foundation!
About Timbalive:
Timbalive is one of the largest and most successful groups of Timba in the United States and the world. The unique band sound, sophisticated production techniques, and a spectacular live show are second to none in the Latin Music scene. The band was created and burst onto South Florida's music scene in August 2008, by Leo Garcia (timbales & director), offering the best of Cuban music with a mix of different rhythms from around the world. All the band's members are highly trained musicians from the most prestigious music schools in Cuba and come from well-known groups from the Island.
Their first album, "From Miami a la Habana " created one of the most unexpected successes in the Latin Music History in the United States. Through their vast discography, Cuban & Latin music hierarchy have shared studio sessions and stages with them. Such music giants names include: Amaury Gutierrez , Willy Chirino , Albita Rodriguez, Issac Delgado, Manolin (El Médico de la Salsa), Grupo Afrocuba, Carlos Manuel, Luis Enrique, Rey Ruiz, Marc Anthony, Celia Cruz, Pablo FG, Clave y Guaguanco, Oscar de Leon, Descemer Bueno, Mayito Rivera, Los 4, Pedrito Calvo, Roberton "Van Van" and Maykel Fonts among many others.
Timbalive has toured Europe, Mexico, Canada, South America, and multiple States in the US, making this band a reference for dancers and Timba lovers in several continents. Songs from their first album such as "El Dinero", "Ave Maria Que – Calor", and Como Miami No Hay Na" are still played by DJs in radio stations and night clubs worldwide, fulfilling Leo's vision of having an international Timba band based in Miami.Twelve years later and five albums, this high-octane ten-member group kept enjoying great success among the Salsa circuit across Europe, South America, Cuba, and the U.S.
About Nic & N'Taya:
Nic & N'Taya is one of only a few bands that have managed successfully to produce a creative body of work in the extremely difficult Cuban Music environment of South Florida. Their last two critically acclaimed albums "#EstoEsUnMisil" y "Tu No Querias Changüí? Coje Changüí !" has been a testament that Timba y Changüí is alive and thriving in Miami.
Changüí is a style of Cuban music that originated in the early 19th century in the eastern region of Guantánamo Province, specifically Baracoa. It arose in the sugar cane refineries and in the rural communities populated by slaves. Changüí combines the structure and elements of Spain's canción and the Spanish guitar with African rhythms and percussion instruments of Bantu origin. Changüí is considered a predecessor of son montuno (the ancestor of modern salsa), which has enjoyed tremendous popularity in Cuba throughout the 20th century. Timba is a Cuban genre of music based on popular Cuban music along with salsa, American funk/R&B, and the strong influence of Afro-Cuban folkloric music.
Timba rhythm sections differ from their salsa counterparts because timba emphasizes the bass drum, which is not used in salsa bands.
Here's a sparkling high-voltage band lead by singer Nick "N'Taya " Martinez who seems to have successfully channeled the spirit and drive of the Timba & Changüí genres to a new generation of Salsa dancers. N'Taya has created a thoroughly enjoyable sound that is perfectly suited for the dance club or your next Cuban or Latin party. Many Miami bands in the past have gotten our hopes up, only to break up. Hopefully, this one will stick around for a while. Stay tuned!