Can We Talk? Really, Can We Talk?
Friday, 06/18/2021-, 06:00 pm-09:00 pm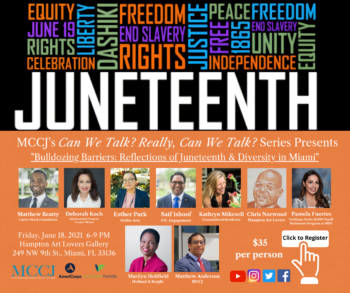 Hampton Art Lovers Gallery
249 Northwest 9th Street,
Miami, Florida, 33136
Eventbrite
Cost: $35
Requiring social distancing? YES
Requiring masks? OPTIONAL
Providing hand sanitizer? YES
Nonprofit Aims to Bulldoze Barriers Affecting Diversity in Miami
MCCJ to Conduct an Open Discussion as the Nation Struggles with Racism
MIAMI, Fl., June 2021 — Juneteenth, the oldest nationally celebrated commemoration of the ending of slavery in the U.S. is right around the corner. Historically designated on June 19th, it's a day for ALL of us to celebrate. For MCCJ, the non-profit organization that advocates for diversity and equality, it's a day to reflect in dialogue and plan for a better future. As part of their "Can We Talk? Really, Can We Talk?" series, MCCJ will present "Bulldozing Barriers: Reflections of Juneteenth & Diversity in Miami" — an effort to encourage continuous self-development and respect not just for the black community, but for all cultures.
"We invite people of all races, religions and cultures to join us in conversation as we acknowledge a period in history that should have shaped and influenced our society, but due to ongoing discord and violence against people of color and religious backgrounds over this past year, it's become clear that we are regressing rather than progressing," says MCCJ's Executive Director, Matthew Anderson. He will be moderating a frank discussion about racial fears and how it affects our progress for a more inclusive community. Following the panel discussion, people are invited to enjoy the "One Way" exhibit at the Hampton Art Lovers, a non-profit art gallery that advocates for black art, and is open to all who love art in all its forms.
Panelists Include:
– Marilyn Holifield, Partner, Holland & Knight and MCCJ Silver Medallion winner
– Saif Ishoof, Vice President for Engagement FIU and MCCJ Silver Medallion winner
– Matthew Beatty, COO Carrie Meek Foundation
– Pamela Fuertes, Executive Director, Goldman Sachs 10,000 Small Businesses Program at Miami Dade College
– Deborah Koch, Executive Director at American Red Cross of Greater Miami
– Kathryn Mikesell, Founder, Fountainhead Residency
– Esther Park, Vice President of Programming Oolite Arts
– Matt Anderson, Executive Director, MCCJ (Moderator)
MASK
PROTOCOL:
The panelists will hold this conversation outdoors under a big tent. In an abundance of caution, we urge thoughtful consideration when it comes to wearing a mask and maintaining six feet of separation.
ABOUT MCCJ:
MCCJ, Inc. was originally founded in Miami in 1935 as the Miami Branch of the National Conference of Christians & Jews. Later on, the group was renamed the Miami Coalition of Christians and Jews. In 2011, in recognition of its embrace of people of ALL faiths and secular backgrounds, the organization formally changed its name to MCCJ, Inc. Today, it goes beyond its original intent by creating a haven for dialog, training inclusive leaders and promoting understanding for all faiths, races and cultures through education, advocacy and conflict resolution. It hosts the oldest continuous interfaith clergy dialog in the United States and presents prejudice reducing programs in local high schools, among other activities. For more information, please visit www.miamiccj.org or call 305-755-6096. Find them on Facebook and @MCCJ_Miami on Twitter.
ABOUT HAMPTON ART LOVERS GALLERY:
Hampton Art Lovers' mission is to accentuate the inspirational unifying and enriching aspects of African American Fine Art in new and old settings. The non-profit is a passionate supporter of Hampton University's long-standing commitment to African-American art, the Hampton University Museum Collection, and the International Review of African American, published by the University since 1976. Hampton Art Lovers derived from the vision of Miami resident and Hampton University Alumni Chris Norwood who recognized the need to have an important publication garner more awareness in the art community. Chris reached out to fellow Hampton University Alumni Imani Greene and Darryl Neverson, and