A Personal Note
Saturday, 05/01/2021-05/29/2021, 03:00 pm-06:00 pm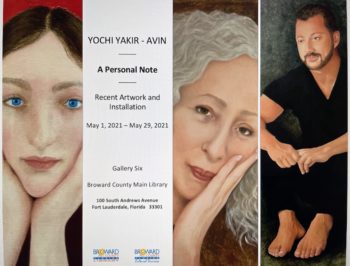 Broward County Main Library, Gallery Six
100 S. Andrews Avenue,
Fort Lauderdale, Florida, 33301
Eventbrite
Cost: Free Admission
Requiring social distancing? YES
Requiring masks? YES
Providing hand sanitizer? YES
Gallery Six presents A Personal Note,
Artwork and Installation by Yochi Yakir-Avin, an American Israeli visual artist, based in South Florida.
The exhibition consists of selected oil paintings, most of them portraits created recently, reflecting the artists European education experience, and influences.
As part of the presentation, a three-dimensional interactive installation that connects to Yakir-Avin's Memory Project, will be installed.
This exhibition is made possible through a CIP Grant 2021.
Funding for this project is provided in part by the Broward County Board of County Commissioners as recommended by the Broward Cultural Council.