Florida Talks: Black Florida & Voices of Change Webinar Series
Thursday, 04/08/2021-, 10:00 am-11:30 am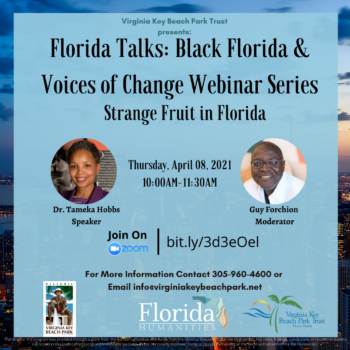 RSVP / Register
Cost: Free
Join Virginia Key Beach Park Trust and the Florida Humanities in a Florida Talks virtual webinar series entitled, "Black Florida & Voices of Change."
The webinar series will help educate, highlight and reflect on critical black Florida stories of Dr. Mary McLeod Bethune, Florida's Lynching and the African Diaspora Experience.
Hosted by Mr. Guy Forchion, Executive Director of the Virginia Key Beach Park Trust, these stories are to unify rather than divide communities by highlighting our priorities of family, equal access, economic stability, and community.
Webinar Date & Title Include: 4/8/21- Strange Fruit in Florida presented by Dr. Tameka Hobbs
Florida's painful history of racial violence, highlighted by civil rights activist Harry T. Moore's
fight against lynching and the Ku Klux Klan that led to his death in a bombing of his home.
"Strange Fruit" refers to a song made famous by Billie Holiday about the lynching of African
Americans in the South.
For more information contact 305-960-4600 or email info@virginiakeybeachpark.net