Random Questions with Larry Fields: Dana Mauro
Tuesday, 04/13/2021-, 08:00 pm-09:00 pm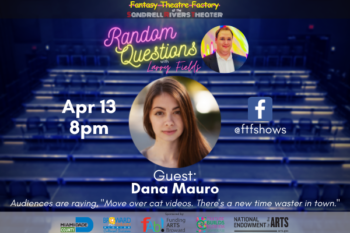 Virtual Location
Cost: Free
Audiences are raving, "Move over cat videos. There's a new time waster in town."
Just as the title suggests the show is a fun, off-the-wall take on a talk show based around a series of rapid-fire random questions.
Guests are all Fantasy Theatre Factory alumni—both past and present, featuring performers, directors, designers, etc.—all the kinds of people who make FTF possible. This is our way of celebrating our great and talented artists both on stage and off—and it's a gig in the pandemic!
This episode features Fantasy Theatre Factory cast member Dana Mauro!
Thank you to our Sponsors: The Miami Dade County Division of Cultural Affairs, Broward County Cultural Division of Affairs, Funding Arts Broward, National Endowment for the Arts