Random Questions with Larry Fields: Ricky J. Martinez
Tuesday, 03/02/2021-, 08:00 pm-09:00 pm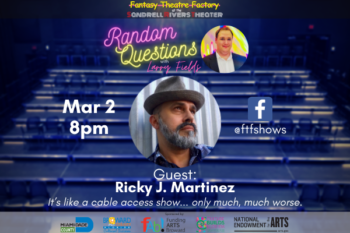 Virtual Location
Cost: Free
Audiences are saying "What is this?" "Why's this on my news feed?" and "Where am I?"
Just as the title suggests the show is a fun, off-the-wall take on a talk show based around a series of rapid-fire random questions. Guests are all FTF alumni—both past and present, featuring performers, directors, designers, etc.—all the kinds of people who make FTF possible.
This episode features a Miami industry favorite and award-winning director Ricky J. Martinez!
This show is our way of celebrating our great and talented artists both on stage and off—and it's a gig in the pandemic!
Random Questions is 1 hour long and will broadcast live on Facebook and YouTube at 8pm on Tues. March. 2nd.
facebook.com/ftfshows
Sponsored by: Miami Dade County Division of Cultural Affairs, Broward County Cultural Division of Affairs, Funding Arts Broward, National Endowment for the Arts