Free Virtual DACA Clinia
Friday, 02/26/2021-, 10:00 am-12:00 pm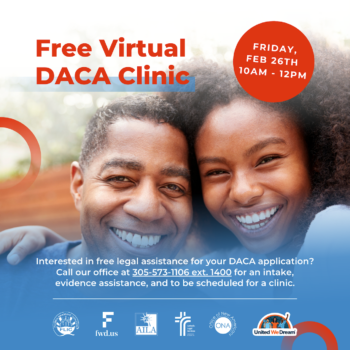 Website
Cost: FREE
Applying for DACA? You don't have to go through this process alone! We are providing free assistance for first-time applicants, and our team of professionals will be able to answer any questions you may have. To be scheduled for a clinic, call 305-573-1106 ext. 1400 or register online here: bit.ly/ONADACAApp.
Upcoming Sessions:
February 26th
March 12th
March 26th
Looking to serve the community? Become a DACA volunteer for a once-in-a-lifetime opportunity to leave a positive impact on thousands of immigrant youth and families in Miami currently protected by the program. Sounds like something you want to be a part of? Send us an email or message us on social media today!
We are proud to partner with Catholic Legal Services, fwd.us, Southern Poverty Law Center, American Immigration Lawyers Association of South Florida, Florida Immigrant Coalition (FLIC), The Office of New Americans of Miami-Dade, and United We Dream to provide these free virtual DACA clinics.
The Office of New Americans is a countywide initiative to raise awareness about the importance of citizenship. Its mission is to empower immigrants eligible for naturalization to become more civically and economically engaged in our communities by facilitating access to the resources they need to attain citizenship and to prosper.